Staten Island - 4th of July Fireworks SI - 2022
Staten Island July 4th Celebrations & Fireworks - St George, Midland Beach, Historic Richmond Town, Travis Town & Tottenville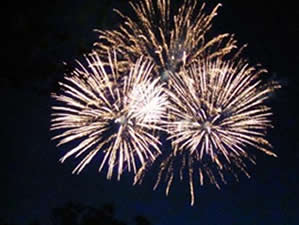 June 28, 2022 / Staten Island Neighborhoods / July 4th Holiday on Staten Island / Staten Buzz NYC.
July 4th Weekend Weather. As of this post 6/28/22, the temperature highs will be in the high 80's during the day and around 70. There's a 50% - 60% chance of rain on Saturday [over a half inch] and a quarter inch of rain on Sunday. The humidity will be 50% - 80% Saturday, falling to 60% on Sunday and down to 50% on Monday. Winds will be 5 - 10 mph throughout the weekend.
Macy's July 4th Fireworks along the East River Provides Good Viewing from Manhattan, Brooklyn & Queens while Distantly Viewable from Northern Staten Island & the Southern tip of the Bronx
The Macy's 4th of July fireworks will be shown along the East River again this year.
They were shown along the East River in 2014, for the first time since 2008, and have remained on the East River ever since. Mayor de Blasio had lobbied for the return, which now spans nine years. The Grucci Brothers will be doing the Macy's 4th of July fireworks in NYC, which they've been doing for decades.
---
Staten Island - 4th of July Fireworks SI - 2022
Staten Island July 4th Celebrations & Fireworks - St George, Midland Beach, Historic Richmond Town, Travis Town & Tottenville
June 28, 2022 / Staten Island Neighborhoods / July 4th Holiday on Staten Island / Staten Buzz NYC.
1. Travis Town 4th of July Parade & Celebration
The town of Travis hosts a 4th of July celebration that harks back to a simpler time. The streets into the town close at 11.30 am. At 12 noon there's a ceremony at Independence Park at Victory Blvd and Glenn Street honoring some of the parade celebrities. The parade kicks off at 12.30 pm. There's an entertainment show place at 141 East Service Road. The parade route is triangular - West on Victory Boulevard to Glen Street; to Cannon Avenue; South on Victory Boulevard back to 141 East Service Road where the entertainment is. The celebration ends around 2.30 pm.
---
$element(adman,groupad,Sectional Ad)$
---
2. Empire Outlets July 4th Fireworks on Staten Island
The Empire Outlets Mall is hosting a firewworks show on Monday, July 4th beginning at 9.30 pm. These will be viewable from locations around the Staten Island Ferry in the St. George neighborhood of Staten Island.
3. Coney Island Fireworks on Friday July 1st & Monday, July 4th - Distantly Viewable from Staten Island's East Shore
On Friday, July 1st, Coney Island will launch its second fireworks of the summer beginning at 9.30 pm along the Riegelmann Boardwalk.
And on July 4th, 2022 the Coney Island fireworks will begin shortly after the Macy's 4th of July fireworks on the East River end. This is generally a bit before 10 pm. The Coney Island 4th of July fireworks will be held on the beach generally in the area of the Steeplechase tower in Steeplechase Park. This is a free event.
Both of these fireworks displays are distantly viewable from the Roosevelt Boardwalk [3 - 5 miles] down to Great Kills Beach [4 - 7 miles] on Staten Island.
4. Macy's July 4th Fireworks from Staten Island
Macy's Fireworks 2022 Barge Locations. You can see the 2022 barge locations on the Macy's map at right. These fireworks will be happening approximately 7 miles away from the northern edge of Staten Island. That makes them distantly viewable.
5. Conference House / Tottenville Independence Day Celebrations Staten Island - Fireworks from Perth Amboy in the Raritan Bay Viewable from Staten Island
On Saturday, July 2nd, at 9.20 pm, the Perth Amboy fireworks display over the Raritan Bay returns this year after a two year hiatus, due to the CoVid pandemic. So folks on the southern end of Staten Island, can once again enjoy the show from the Conference House park in Tottenville.
On Sunday, July 3rd, beginning at 4 pm there's a free concert being performed by the Staten Island Philharmonic featuring "All American Patriotic Music" at the Conference House in Tottenville.
6. Historic Richmond Town - Independence Day Celebration All Weekend
Historic Richmond Town will be celebrating Independence Day from 11 am - 4 pm Saturday through Monday in an historic setting with old fashioned Americana events and projects. Activities include flag making, ice cream churning, learning the science behind fireworks and meeting artisans, tradesmen and Thomas Jefferson and John Adams. Tickets are $15 for a one day pass, $20 for two days, and $25 for three days. For tickets and details see www.historicrichmondtown.org
FYI - as of this posting 6.28.22 the fireworks photos were taken in other boroughs. These will be updated at a later date.
The NYC 4th of July fireworks are viewable from all five boroughs. Click these links to specifics related to each borough - 1) Bronx 4th of July fireworks 2022 & Orchard Beach July 4th fireworks BX NYC, 2) Brooklyn 4th of July fireworks 2022 & Coney Island July 4th fireworks BK NYC, 3) Manhattan 4th of July fireworks 2022, 4) Queens July 4th fireworks 2022 & Astoria Park 4th of July fireworks Queens NYC , and 5) Staten Island 4th of July fireworks 2022.
---
$element(adman,groupad,Sectional2 Ad)$
---