Things to do This Weekend in NYC
Bit by Bit NYC Emerges from the CoVid Pandemic Shock ...
... but it's Increasingly Looking Like It Will be a Slow Recovery
July 10, 2020 / NYC Neighborhoods / CoVid in NYC / News Analysis & Opinion / Gotham Buzz NYC.
Weather.  The temperature highs will be in the high 70's Friday, rising to about 90 degrees on both Saturday and Sunday.  There's a 100% chance of inches of rain throughout the day Friday, with some rain – about an inch - in the late morning / early afternoon on Saturday, and then clear on Sunday.  Humidity will be in the 90% plus range on Friday, dropping to 80% on Saturday and down to 65% on Sunday. There will be wind gusts of up to 20 – 26 mph on Friday, settling down to 5 – 10 mph on Saturday and Sunday.
We began to return to some measure of normalcy this week as NYC moved into Phase III of the reopening.  Restaurants sprung back to life with sidewalk and curbside seating which seemed to fill up pretty well in the first week of opening.  Rain will dampen that enthusiasm today and through mid afternoon tomorrow, but I expect seatings to resume later in the day Saturday.
Things to do in NYC This Weekend
The Mayor also announced the opening of 22 European piazza style dining streets in all five boroughs [scroll down to July 2nd post for a listing of them].  Some of these NYC 'piazzas' opened last weekend. I visited the one on Restaurant Row in Manhattan and it looked to be a success – see photo.
While things haven't returned to normal, and likely won't for some time, they are becoming more normal from week to week.  And there's more to do these days, than there has been for a long while, for those who want to get out and about. 
New openings this past week include:
The 911 Memorial waterfall which reopened last Sunday, July 5th to the public between the hours of 1 and 8 pm.  The 911 Museum will remain closed.
NYC public park golf courses opened this week as part of the Phase III reopening.  So you can get out and shoot a few rounds at a reasonable price.  LINKS.
Tennis courts, basketball courts and dog walks also opened in NYC parks as part of the Phase III reopening.
The Highline Park opened in Chelsea last weekend.  It's capacity limited and will be open from 12 noon to 8 pm.
Many of the Long Island shopping malls reopen today, Friday July 10th with social distancing and other CoVid precautions in effect. The New Jersey shopping malls reopened a week and a half ago on Monday, June 29th.
Upcoming openings include:
On Monday, July 13th twenty-two of the public libraries in all five boroughs will reopen.  They include:

Queens - Bayside Library, Bellerose Library, East Elmhurst Library,  Kew Gardens Hills Library, Laurelton Library, Long Island City Library and Peninsula Library.
Brooklyn - Bay Ridge Library, Bushwick Library, Kings Highway Library, Central Library, New Lots Library, Flatbush Library and the Red Hook Library.
Manhattan - George Bruce Library, Epiphany Library and the Mid-Manhattan Library which has been renamed to Stavros Niarchos Foundation Library (SNFL).
Bronx - Belmont Library, Francis Martin Library and the Parkchester Library.
Staten Island - Richmondtown Library and the Todt Hill-Westerleigh Library.

Movie theaters are tentatively planning to reopen on Saturday, August 15th.
The Western & Southern Open [tennis] is expected to be played at the Billie Jean Tennis Center in Flushing Meadows Corona Park beginning Saturday, August 15th.
The Met Museum is expected to reopen at the end of August.
Some of the activities that opened in prior Phases were:
The beaches were opened for swimming.
The piazza style dining mentioned above.
And major league sports will be returning beginning July 22 – 23 with the return of Major League Baseball – but it won't be live – but rather on TV.  The NBA has also resumed practice for the end of season play planned to begin at the end of July / early August. The NHL begins practice on July 13th with 16 of its 31 franchise teams playing eight best of five series to compete for the Stanley Cup.  The season resumes August 1st.  And the NFL has shortened preseason play to two games [down from four] in August and continues to maintain its September 7th season start date.
CoVid Reminders & Update
It seems the scientists are beginning to zero in on how the virus is transmitted.  Originally it was thought to be spread via surfaces and air droplets, with no weight given to either method of transmission.  It now seems that the air droplets may be the most prevalent method of transmission, which is why the mask wearing has been so heavily emphasized. The significance of the role played by asymptomatic CoVid carriers has fluctuated, but seems a real risk. The same seems true for person-to-surface-to-person transmission, which also still seems not to have been assessed with any strong level of certainty. 
So my advice would be to continue practicing the three w's: 1) Wash [your hands], 2) Wear [your mask] and 3) Watch [your distance].  When it comes to your health – better safe than dead.
Vaccine and therapies hype or reality?  Talk is cheap.  We'll see when the science comes in.  And then we'll really see, after they distribute these therapies to large segments of the population.  We all wish for a workable vaccine and / or remedial therapies very soon.  But as my father used to caution me, "If wishes were horses, beggars would ride."
The Mail In Vote – Sure Fire Recipe for Disaster in November?
So here we are – nearly three weeks after the June 23rd NYS primary election – and still no definitive results in a number of races because the mail in votes have not yet been tabulated.  This is a disgrace and what seems a sure fire recipe for chaos come November.  It's worth noting that Politico did a study of the 2018 mail in votes which showed that 8% of them weren't counted for various reasons.  I voted by mail in the primary in 2018 and my mailed in ballot was thrown out because I forgot to sign the envelope.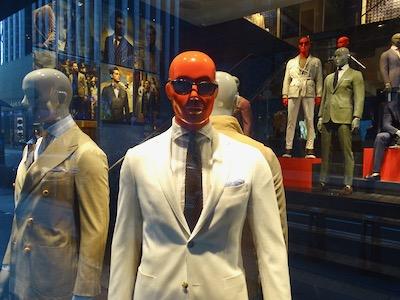 Within the past three weeks the Supreme Court has shot down two separate efforts by Democrats to require the state governments in Texas and Alabama to provide all voters with mail in ballots. 
In Washington State where mail in ballots are the method used, the system was implemented piece meal beginning in 1983 [and even before].  The method was authorized at the state level in 2005, allowing the counties to decide how best to manage the elections.  And in 2011 it was mandated state wide.  The Washington [state] Secretary of State said there isn't nearly enough time nor budget money for states considering the change to properly implement it by the November 2020 election.
In the long haul, however, it does seem to have significant advantages as a pandemic wouldn't affect voting, it has a solid paper trail, polls and poll workers become a thing of the past – but it requires skilled personnel and processing equipment to properly collect and tabulate the ballots.  It would seem that NYS didn't tend to those 'details' and thus – here we are nearly three weeks after voting – without knowing definitively who won and who lost most of the contests on the ballot.
Fairway Closings / Sale and Other Retail Bankruptcies & Layoffs
The CoVid pandemic has been something of a bloodbath for traditional retailers.  This month Bed Bath and Beyond announced that it's shuttering about 20% of its 950 stores.  This follows our previous report, that on June 25th Macy's announced staff reductions of 3900 people to save about $630 million.  And in May retailers - JC Penney, Nieman Marcus, J. Crew and Pier 1 - all declared bankruptcy.
And at the hyper local level [even more than Macy's] Fairway had announced on June 26th that it was closing three stores in / near NYC including its Red Hook  Brooklyn store [previously reported], its store at 125th Street in Harlem store,  and its Plainview Long Island store as well as its NYC corporate headquarters and distribution center affecting as many as 2,412 employees. The brand and five of its NYC stores were purchased by the operator of Shop Rite: Village Super Market.
Tale of Two Economies – Tech Laden NASDAQ & Dow(n) Jones 'Industrials'
Those adept at online sales, however, have been faring far better.  Amazon is up about 66% from the beginning of the pandemic, while Best Buy is trading at about the same as it was before the pandemic.  And Apple Computer is up about 20% versus its pre-pandemic level.
The stock market indices have followed suit.  Australian born billionaire elitest Rupert Murdoch's Dow Jones Industrial Average is down about 14% from the pre-pandemic level, while the NASDAQ is up about 9% versus its pre-pandemic level.  That's 25% difference in returns between the aging old Dow[ager] and the Nasdaq.
More Layoffs in the Works – The Airlines & Transportation
A July 6th report on CNBC noted that air travel in early July [including the 4th holiday weekend] was up 90% vs June – but that is still down 70% vs year ago.  As such United Airlines announced plans to layoff 36,000 employees by October 1st, which is about 45% of its frontline workforce.  American Airlines announced plans to layoff as much as 30% [39,000] of its 130,000 workforce.  Delta, one of the big three, is also working on staff reductions, but I couldn't find anything definitive.  Their staff was reported to be about 91,000.  Airline demand is expected to be down about 75% vs year ago in the third quarter 2020 and – according to one report - not expected to recover until 2023.
This affects the NYC economy as we are the destination of at least three major airports [LaGuardia, JFK and Newark], and many people who live here, work in the airline transportation industry – not to mention the airports which service airline travel.
The Donald seems to have pissed away $25 billion of America's children's money [loans taken out on their backs], which he gave to the airline industry in what seemed an effort to save his re-election bid, more than having anything to do with anything else.  A July 2, 2020 Motley Fool report noted that just under a third of the $25 billion is expected to be paid back. German Chancellor Angela Merkel negotiated for the government to take an equity stake in the German airline Lufthansa in exchange for the bailout.
Amtrak is planning to cut its workforce by 20% or 3,700 employees out of its 18,000 employees.  Ridership at the height of the pandemic was down about 95% and it's not expected to come back soon, as they estimate about 50% of traffic in the coming fiscal year [versus 2019] which begins October 1, 2020.
More Layoffs in the Works – Restaurants & Hotels
National chain restaurants are also closing enmasse.  Subway, Starbucks, Pizza Hut, Burger King, Boston Market, Applebee's and TGI Fridays, Perkins, Cosi, Friendlys, Taco Bell and Benihani are all planning multiple closings. Most of these chains have outlets in NYC, but that said it's difficult to assess the potential impact.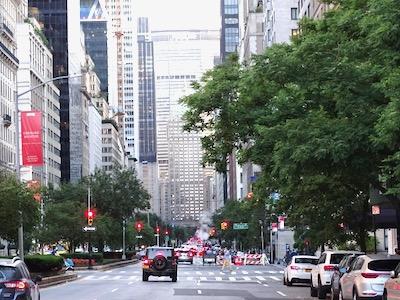 A June 23, 2020 Real Deal report noted that the American Hotel and Lodging Association said that at the end of March 2020 some 200,000 of the half million people working in the NYS hotel industry were [expected to be] losing their jobs. Nationally the comparable figure was four million.  They also said a CBRE report noted that April hotel employment was at 28% of pre-pandemic levels, while in June it had risen to 40%. They also said that hotels were filing notice of more layoffs.
The reason, of course, is that the resumption of the hotel business to pre-pandemic levels isn't likely anytime soon.  In recent years NYC has generally welcomed over 60 million visitors annually.  And as I walk the streets, I can see that even many NYC natives who fled the pandemic for their second homes, have not yet returned to the city – let alone tourists. As mentioned in a prior report [June 29, 2020] the European Union kept the pandemic restrictions on U.S. travelers because of how poorly we're faring in managing it AT THE NATIONAL LEVEL.
It seems in just three and a half years the Donald has managed to alienate our staunchest allies, while warming to those nations hostile to our democratic way of life.
More Layoffs in the Works – Banks, Financial Services & Real Estate
The next shoe to drop is in the financial services sector as Wells Fargo is eyeing layoffs, as is Deutche Bank and HSBC.  Since the pandemic slowdown began, many borrowers are using more of their credit lines, business activity has slowed for many and won't likely bounce back soon, and the real estate sector / landowners are sitting on tons of unpaid rent. 
So this could be the beginning of a financial services adjustment, as bricks and mortar retail banking begins to go the way of a lot of other bricks and mortar businesses.  All seeming to advance a worsening outlook for commercial real estate [restaurants / hotels / retailers / retail banks / telecommuting office workers and so on].
More Layoffs in the Works – Municipal and State Government?
And lastly, there are government related layoffs which could occur at the municipal and state levels given the billions of dollars in tax revenue shortfall.  Mayor de Blasio has managed to find ways to manage through the estimated $9 billion revenue shortfall this year, including using his rainy day fund [now people may see that he was wise to do so], but we're not out of the woods yet as up to 22,000 in NYC municipal employee layoffs could be needed by October 1st. 
Meanwhile NYS faces a $10 - $15 billion shortfall.  Governor Cuomo has already begun withholding state funds from counties and municipalities in order to make up the shortfall.  And the state also employs 80,000 people, for whom the Governor froze pay raises in anticipation of the financial crunch.
Reminder – Taxes Due July 15th
The time has run out for those who have not yet filed their taxes.  On Wednesday, July 15th taxes are due.
Have a relaxing weekend.  Stay warm? And stay dry : )
---
Crime & Punishment and Racism & Reparations
But First a Video of the Fireworks & From the Streets on July 4th
July 7, 2020 / NYC Neighborhoods / News Analysis & Opinion / Gotham Buzz NYC.
Here's a video of the Fireworks, which includes some street activity and commentary & music. Click the box in the lower right corner to max it up to the full screen for best view. Hit the escape key (esc) to exit the full screen view.
More coming about the evening later this week. Enjoy.
---
July 4th Weekend NYC: The New Normal is About Adjustment & Simplicity
The NYC Budget, NYC Events, the Economy & CoVid Update
July 2, 2020 / NYC Neighborhoods / News Analysis & Opinion / Gotham Buzz NYC.
George Floyd Protests, the NYPD and other NYC Budget Cuts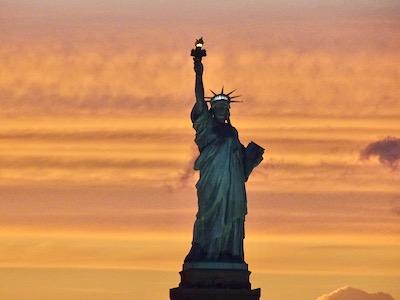 The George Floyd protests seem to have abated, over a month after his death.  The new NYC budget does cut about a billion from the NYPD budget by reducing the staff from 36,000 to 34,000 employees, cancelling the most current class of new cadets, and reallocating school security to the Department of Education and homeless engagement to social services units. About 5,000 people work in the school security program and that will be transferred over a period of time to make sure it works properly.  Another$160 million was allocated to summer youth programs [$115 million], as well as to address food insecurity [$33 million] and housing [$8 million]. 
The overnight Staten Island Ferry service was also cut for the time being.  That affects about 4,250 riders per night based on 2019 statistics.  Other cuts included in the NYC budget include an $800 million cut for schools, a 5% - 7% cut to all departments, some labor savings [$1 billion].  The labor savings could result in NYC layoffs in the Fall if other solutions aren't found.  The cuts were due to a mix of actual and expected NYC revenue shortfall of about $8 – $9 billion.  City Councilmember Helen Rosenthal of the Upper West Side tells us that about $4 billion of the shortfall will be made up by the Mayor's rainy day fund, which de Blasio had prudently set aside to address unexpected events.
The Mayor also announced that NYC public schools would be reopening in the Fall.  He said he was working with the unions to implement safe plans which would include social distancing measures which would possibly take larger classes online, stagger schedules to fill the school with fewer students at any given time, implement cleaning efforts and staggered lunchtimes.  The Governor noted that ultimately it's his call on school reopenings.  Nonetheless, the Mayor said that NYC was working to submit a plan by late July / early August.
NYC Moving to Phase III Monday but Indoor Dining on Hold
Because of the upturn in CoVid infections in other states as noted below, the Governor and Mayor have put indoor dining in NYC on hold.  Nonetheless, the rest of Phase III will continue as planned on Monday, July 6th. Phase III also includes the opening of personal care businesses such as tanning, waxing & nail salons and spas.
Piazza Style Dining to come to 22 Streets in all Five Boroughs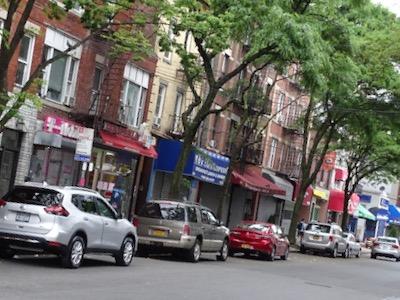 The Mayor announced efforts to mitigate the impact of the delay of the opening of restaurants indoor areas by further opening the streets to restaurateurs over the weekends beginning Friday evenings  -  in what was described as piazza style dining.  Expanded dining areas are planned for 22 streets around all five boroughs in the city including Restaurant Row in the Hell's Kitchen neighborhood of Manhattan, Mulberry Street in the Little Italy neighborhood of Manhattan, and streets in Chinatown at Doyers Street, the East Village at Broome and Orchard Street, Harlem at 101st Street and Lexington, Gansevoort & 13th in the West Village, Broadway and 25th in the Flatiron District.
In the outer boroughs there's Arthur Avenue in the Little Italy / Belmont neighborhood of Bronx [7/10], New Dorp at Hylan Blvd in the New Dorp neighborhood of Staten Island, Bell Blvd in the Bayside neighborhood of Queens, and in Brooklyn a number of streets in DUMBO between the Brooklyn and Manhattan Bridge near the water in Brooklyn, 5th Avenue in the Park Slope neighborhood of Brooklyn, at Reed Street and Van Brunt near the Fairway in the Red Hook neighborhood of Brooklyn.  And speaking of Fairway – they're planning to close three stores as a result of the pandemic including the one in Red Hook, another in Harlem and one on Long Island.
In Phase II NYC had started to clear the way for restaurants to occupy the curbside parking spaces in front of their dining / drinking establishments to allow the serving patrons outdoors.  This appears to have worked well, with – thus far – no attendant substantive increase in CoVid cases.  This is even though many to most of the folks I see dining and drinking outside aren't wearing masks.  This is understandable as it's hard to eat and drink with a mask on, as I tried it a week ago and didn't like it.
But for the people who are most susceptible to severe illness - and even death - due to CoVid, they are advised to continue to exercise caution, even in the outdoor dining and drinking setting, as the consequences for them are too severe to take the risk.
Events & Things to do During the CoVid Pandemic in NYC
As announced in an earlier post, the beaches were set to open [and opened] on July 1st for swimming.  The Mayor is working on plans to open about ten swimming pools at the NYC Parks by August 1st.  Among them are the Lyons Pool and the Tottenville Pool on Staten Island.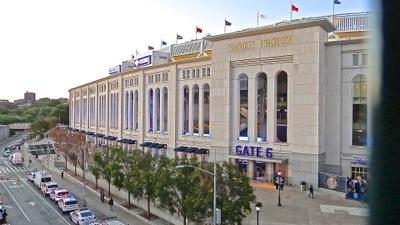 Major League Baseball begins 'Spring' training this week / weekend with both the Mets and the Yankees on the field by the weekend at CitiField and Yankee Stadium.
Movie theaters continue to push back their reopening dates from July 15th to July 30th and it now stands at August 15th.
The Video Music Awards is still planned for August 30th at the Barclays Center, but with CoVid style adjustments.  The Highline Park in west Midtown / Chelsea will reopen in Phase III, with reduced hours 12 noon – 8 pm and social distancing / capacity limits. 
The U.S. Open will go on as scheduled – but without fans - beginning August 31 and running through September 13th.  The Western and Southern Open, usually played in Cincinnati will immediately precede the U.S. Open by playing at the Billie Jean Tennis Center from August 15th – 23rd.
U.S. travel by air still down significantly, but up versus prior months.  There are complaints that there wasn't any federal guidelines issued for airports, so airport management has taken it upon themselves to address the pandemic as they best see fit. 
Car travel is expected to be up this July 4th weekend - possibly higher than normal - because folks aren't flying or taking public transit like the train as much.
Bulging Government Debt & Deficits - Are There No Adults in the Room?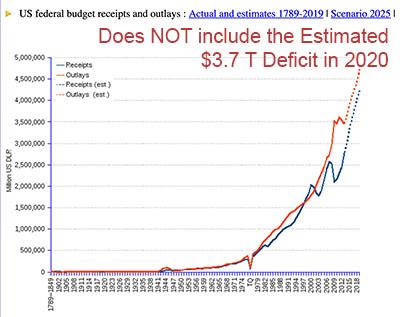 These past three and a half months have been disconcerting and disorienting for most of us.  First the CoVid pandemic, then the George Floyd protests and we're now wrestling with how to manage the economic fallout of the pandemic in parallel with managing our community health and cultural interests.  These are unsettling times, if for no other reason than we are flailing as never, or as rarely, before. Perhaps because leadership at the national level has been sloppy at best. 
The Donald, McConnell and McCarthy seem corrupt or incompetent or both, and Pelosi and Schumer seem to enable them.  For instance, by signing on to those bloated, bonus billionaire stimulus bills - which did so little to help the states, municipalities and American people.  And all of the federal government leadership criminally dumped the $2.5 trillion tab on America's children and those Americans yet to be born. 
Fiscal Conservatism – It's Phony Talk and No Action
There isn't a Republican or Democrat in the Senate or House who voted for the $2.5 trillion of stimulus bills, who can legitimately claim they are fiscal conservatives.  This generation of Americans is royally screwing future generations of Americans by their irresponsible and reckless management of the nation's finances. It's as if nobody is watching the store anymore.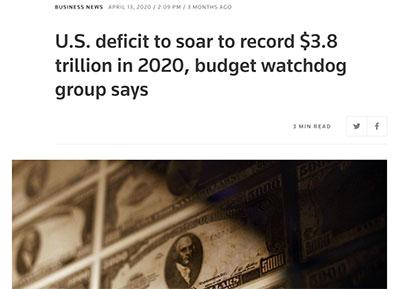 The deficits and debt dumping on future Americans started to accelerate in the Reagan years, when Reagan cut taxes and continued to increase government spending [see chart above showing government receipts and spending and the gap in between ]. By the end of Reagan's second term the size of the deficit had nearly tripled versus the last year of the Carter Administration. Under George H.W. Bush the deficit continued to grow. There was a hiatus during the Clinton years when they actually ran a small surplus. But that quickly disappeared when George W. Bush led America into two wars in the Middle East and then deregulated America into a financial meltdown, leaving a $1.4 trillion budget deficit which Barack Obama inherited when he was sworn in.
In 2009, the first year of the  Obama Administration,    America's deficit nearly tripled to the $1.4 trillion as mentioned above, because of the Bush financial meltdown in the Fall of 2008 .  By the end of the Obama Administration, the deficit had been brought back down to within a bit more [+20%] of what it had been the last year of the Bush Administration. 
Enter the candidate [ the Donald], who sold himself to the American people as a great businessman.  The Donald entered office with the nation running a half trillion dollar deficit.  This year the Donald's Administration  is projected to oversee a seven fold increase of the deficit to $3.7 trillion,  according to an April 24, 2020 report by the Congressional Budget Office [CBO]. 
An important part of remaining a free people is to responsibly manage your finances.  A nd that includes the government finances too, as we're collectively on the hook for all that debt. Please take note and start asking pols how they intend to fund new programs and what they're doing to close the budget gap.      
Is the U.S. Unemployment Rate 11.2%, 12.4% or Higher?
In June the economy added back some 4.8 million of the jobs lost earlier in the pandemic. This follows the May report where the economy added back 2.5 million jobs.  It is estimated that about 20 million are currently seeking work and  are unemployed.
Fake Unemployment Numbers or Fake News?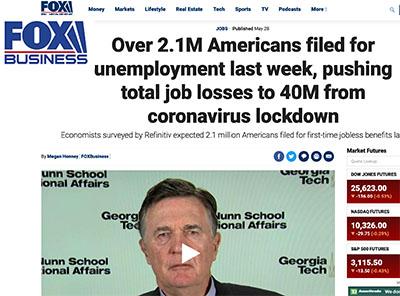 But something is not right here, because at one point there were reports that 40 million had filed first time unemployment claims. So the unemployment numbers don't add up.  There's a minium difference of 10 million employees between the first time claims reported [40] less the current 20 million unemployed [see BLS report below] and the 2.5 million and 4.8 million [7.4]  jobs added back in May and June respectively. I've made an allowance of 2.5 million for the 1.1 million dead people they sent checks to [see prior report] and some measure of fraud by a foreign enterprise [as noted below]. 
This begs the question, what's going on ? One answer may be that the 40 million first time unemployment claims number was inflated or incorrectly computed - as at the outset of the pandemic, the states unemployment insurance systems were overloaded. So there could have been double or  triplicate overcounting [or more] .
Another answer is fraud.  And in fact there was a large fraud scam detected, whereby an international ring used people's information to claim their checks.  And, as previously reported, the Trump Administration distributed over a billion dollars to dead people. Trump also famously fired the at least three Inspectors General since the beginning of this year, so I haven't by any means excluded corruption as a possible reason.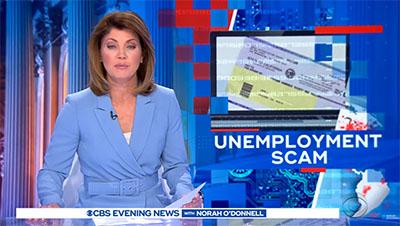 Another answer to the question may lie in how these statistics are compiled and reported, as employment stats come from states counting unemployment claims, while the Bureau of Labor Statistics, conducts a survey.  It seems to me the numbers coming from people who are going through the state unemployment insurance process would provide a more accurate count.
Why haven't the major news organizations updated / reconciled these figures? We need to know if the 40 million first time unemployment filers was erroneous reporting / fake news, or if we're being fed fake unemployment numbers, or if something else is at play.
BLS Unemployment Rate is  11.2% or 12.4%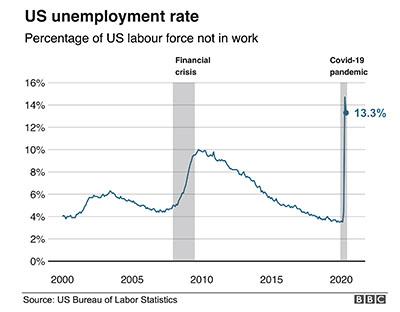 The Bureau of Labor Statistics [BLS], for the fourth straight month, categorized a large number of people as employed, who were not at work. In their July 2nd report they state,
" … there were 2.8million workers with a job but not at work who were included in the "other reasons" category in June 2020, about 2.0million higher than the average for June 2016–2019. If we assume that this roughly 2.0million increase was entirely due to misclassification and that all of these misclassified workers expected to be recalled and were available for work, the number of unemployed people in June (on a not seasonally adjusted basis) would increase from 18.1 million to 20.0 million ... the labor force would remain at 160.9 million in June (not seasonally adjusted) as people move from employed to unemployed but stay in the labor force. The resulting unemployment rate for June would be 12.4 percent (not seasonally adjusted), compared with the official estimate of 11.2 percent (not seasonally adjusted) ... "
Future Employment Likely to be Impacted by Surging CoVid
The U.S. has been breaking records in the number of people testing positive for CoVid this past week.  The recent upsurge is causing some states to halt or even roll back their openings, which is likely to have implications for the national economy and unemployment.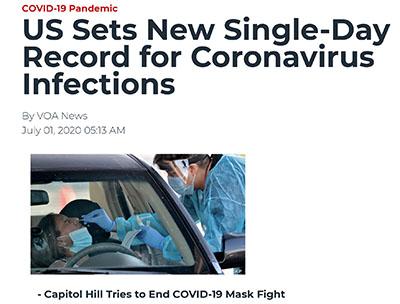 Texas Republican Governor, Greg Abbott, reversed his efforts to undermine municipalities trying to mandate the wearing of masks, and  issued a directive requiring that masks be worn in public spaces in the municipalities most impacted by CoVid in Texas. 
A July 2nd report in the LA Times informs us,
"… The Republican governor, who had pushed Texas' aggressive reopening of the state economy in May, had previously said the government could not order individuals to wear masks. His prior virus-related orders had undercut efforts by local governments to enforce mask requirements."
Prior to Abbott's directive late this week, a  a number of Mayors throughout Texas had been asking the Governor for help by slowing the economic reopening ,and allowing them to mandate the wearing of masks.
A June 26, 2020 report in Politico quoted Texas Governor Greg Abbott saying,
"At this time, it is clear that the rise in cases is largely driven by certain types of activities, including Texans congregating in bars,"
As mentioned above, this led the NYS Governor and NYC Mayor to put indoor dining on hold here.  
Florida Republican Governor Ron DeSantis, was also one of the Governors pushing for a quick economic reopening, and like Texas Republican Governor Abbott, fought the mandating of wearing masks.  But a week ago, he too turned tail and had the Florida Secretary of Business issue the following statement,
"Effective immediately, the Department of Business and Professional Regulation is suspending on premises consumption of alcohol at bars statewide,"
Why are so many slow learners occupying the important governmental positions in our society? Perhaps because so many of the folks who voted for them got their disinformation from the propaganda outlets controlled by Australian born billionaire Rupert Murdoch.  Murdoch's Fox News seems to be America's CoVid Disinformation News source, as often enough they seem to leave out important context regarding the pandemic , in a manner not unlike how they appear to distort reports about public policy,  pols and candidates by omission of key facts, hyping allegations and innuendo, rumor mongering and there's a whole bag of other Murdoch tricks which we've previously reported.
Best Wishes for a Calm & Enjoyable July 4th Weekend 
While we live in a disturbing and confusing time, we will get through this.  And while our ancestors faced worse, with fewer resources and less technology, that's not much consolation at the moment. I find it helps to go for a walk, take a short bike ride, visit the park to put things in perspective.  You can also now go to the beach or meet with friends for a meal or drinks at a local bar or restaurant by using their outdoor seating.  These aren't the big communal things we had done over the July 4th weekend in years past, but this is a very different year and we need to make adjustments as we trek on.
My father used to say, "That which doesn't kill you, makes you stronger." So  stay safe so you can become stronger. And best wishes for a good 4th of July weekend.
---
July 4th Week - NYC Events & Happenings
City Restaurants Turned Inside Out, NYC NYPD Protests Continue, Broadway Cancels Fall Season, Major League Sports Update, Elections Results Still Unknown with Lessons for the Fall &  July 4th Fireworks Begin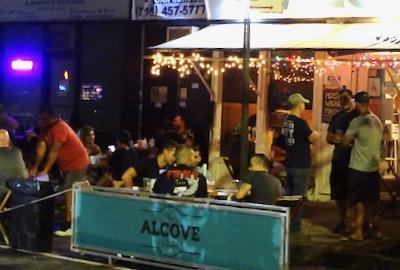 June 29, 2020 / NYC Neighborhoods / News Analysis & Opinion / Gotham Buzz NYC.
NYC entered Phase II of its economic reopening a week ago.  As part of that phase, restaurants were allowed to serve customers on the sidewalks in front of their establishments.  Over the past week or so, more and more people have returned to enjoying a restaurant meal in a social milieu.  Now when I'm returning home around or after dinner time I feel as if I'm walking right through the center of several restaurants.
Restaurants Turned Inside Out
It's kind of interesting, because I get to see the entire clientele without having to enter the restaurant and I can also see what the food looks like.  I reckon the downside is that while it seems generally the customers have masks which I see lying on the tables, they take them off or pull them down while there.  This makes sense as eating and drinking with the mask on is not feasible.  The downside is that while I used to walk around the neighborhood without wearing the mask [it's ok out of doors when distancing  six feet ], I've started wearing my mask out of doors while I'm walking through these restaurant seating areas ... just to be safe.  The photo above was taken in Sunnyside Queens this week.
Phase III is expected to begin next week, and on Wednesday the Governor and Mayor will announce whether or not restaurants will be allowed to serve customers inside.  There's reluctance to do so, as it is believed that the in house social interactions are one of the leading contributors to others states now seeing a surge in CoVid cases. 
NYS Takeout Cocktail Law Extended for Third Time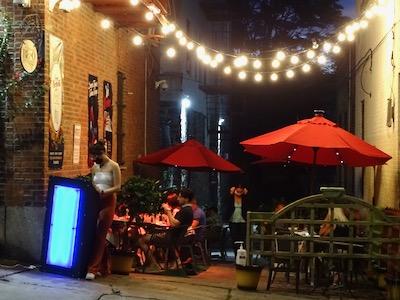 On Friday Governor Cuomo extended the NYS Takeout Cocktail Law for another month. The law was set to expire Saturday 6/27.  Restaurateurs have been hurting since the CoVid Pandemic hit, closing them except for pick up, for about three months.
On June 22nd NYC entered into Phase II whereby restaurateurs were permitted to serve people outside.  In Phase III – assuming all goes well [which as noted above is not a given]         – restaurants will be able to serve people inside at 50% capacity. 
The photo at right was taken in the St. George neighborhood on Staten Island Saturday evening 6/27.  
Broadway & Carnegie Hall Cancel Fall Seasons
The Broadway League announced that the Fall Broadway season has been cancelled until January 2021.  The Broadway League is comprised of theater owners and theatrical production producers / creators and affiliated contributors. Carnegie Hall also announced it was cancelling its Fall season.  This is in line with what we previously reported vis a vis Lincoln Center and we understand that most – if not all – musical venues will not be coming back until 2021. The photo at right was taken along 42nd Street looking west toward Times Square and Broadway. 
This has significant economic implications as cultural centers attract people to NYC from around the nation and around the world and helps drive retail shopping and the restaurant business in NYC.  Over 60 million tourists visit NYC each year and their attraction to the Big Apple is driven - in part - by cultural performances, the parades and festivals and major sporting events - most of which won't be made accessible by the public this year. Many also come for the food, the diversity and non-performance cultural institutions - like the Metropolitan Museum of Art, which is planning to reopen at the end of August and MoMA is expecting to open before September.  This is all dependent on how NYC and NYS are doing with respect to containing the spread of CoVid. 
CoVid Pandemic Still Raging in U.S.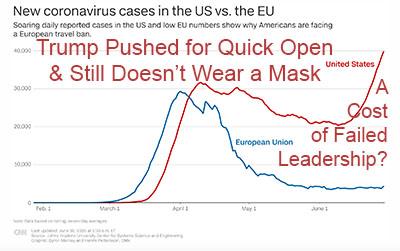 All but two states showed increase in CoVid cases the last couple days.  And many state   are reaching record highs, such as Florida, Arizona, Texas and California.  It is believed that these states – at the Donald's pressuring - reopened too soon and that too many in the population don't wear masks – also like the Donald.
I hope it will be different in New York City & NY State, as I wish it were different in the rest of the nation.  America is First in Corona Virus infections and in Corona Virus deaths. On a national level we're doing so poorly,  that even our European Allies, who are opening for international travel effective July 1st, are expected to  extend travel restrictions on the U.S. until we get our act together on the Corona Virus.
I found the chart shown at right on the CNN website with the data provided by Johns Hopkins University in Baltimore, Maryland.
City Hall Police Budget Protests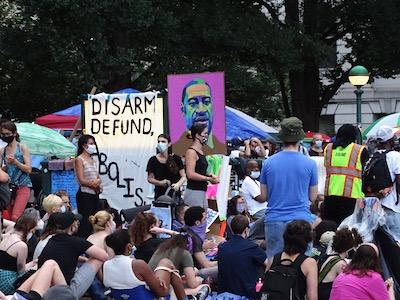 I visited City Hall over the weekend, to see what was happening at the NYPD Budget protests.  I arrived early Saturday evening when there were several hundred people congregated on a warm but dry and pleasant evening.  A few speakers were keeping the crowd engaged, but generally it was pretty mellow – almost like a park, afternoon sunning event. The photo at right was taken at City Hall on Saturday evening 6/27.
The Mayor and City Council are setting the next budget as we speak, which seeks to cut the NYPD budget and reallocate some of the money to alternative approaches to reducing crime.  The protesters have asked for reduced funding for the NYPD, in order to reallocate funding to social services and to expand the repertoire of government responses to various 911 calls such as crises related to physical health, mental health, family troubles and so forth.  They would also like to see more funding allocated to youth social programs in order to steer kids toward a productive life, rather than a criminal one.  It appears that's exactly what is happening.
Murdoch Media Distortion: Is the City on Fire or is Rupert Murdoch Out of Control?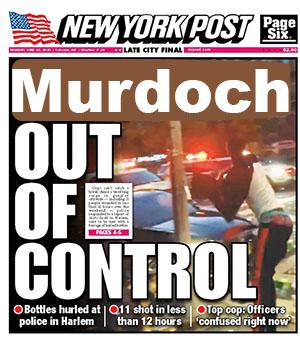 But you might have trouble learning anything about the real policy issues of the police debate if you trust the U.S. news outlets acquired and controlled by elitest Australian born billionaire Rupert Murdoch.  The elitest billionaire controls the NY Post, Fox News and the Wall Street Journal - all age old American brands which he appears to use as a propaganda machine. When the George Floyd protest began, his Fox News outlet kept running and re-running the same video of one car on fire to hype the protests, increase the fear and amplify his ratings and profits. 
Murdoch's latest effort seems to be to distort short and immediate sharp rise in shootings in NYC [see NY Post front page at right which I edited / corrected].  While crime is up the past couple of weeks, it's because of a gang war, which one or more of his media outlets fail to disclose / include in their reporting.  Murdoch media amped this same type of fearmongering a number of years ago, when de Blasio became Mayor and ended Stop N' Frisk, by highlighting and blazing fear mongering headlines about a short uptick in crime. By the end of the year crime was at or near record lows . 
Oftentimes Murdoch  seems to partner with NYPBA Union Boss Patrick Lynch in trying to bring down City Hall. They both pushed aggressively to keep Daniel Pantaleo on the NYPD after Eric Garner's death. See our report on this in the Murdoch Media Madness section of Gotham Buzz - or click Pat Lynch NYPBA Union Boss and Rupert Murdoch's NY Post advocate to keep Pantaleo on NYPD in wake of Eric Garner's death.   
Murdoch media appear to manipulate what their audiences see - and thus believe - in other English speaking nations like Australia where Murdoch reportedly controls about 70% of newspapers [2011], as well as in Britain where he controls an overwhelming share of newspapers [he controls over 40% including two of the largest papers such as The Sun & The London Times].  Murdoch also controls the largest share of privately owned television outlets  in both nations, and his media too often seem to omit key facts and amp allegations and innuendo as a means of creating impressions in their audiences that don't align with the facts - as his NY Post did by urging the retention of Daniel Pantaleo on the NYPD in the wake of Eric Garner's death - see above link .
Murdoch's Propaganda Machine is a Fascist Threat to U.S. Democracy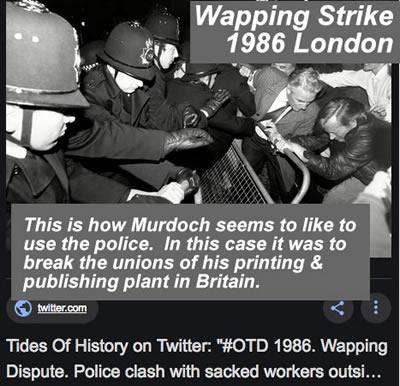 Murdoch famously used tax payer funded police power in London in 1984 - 1985, to bust the printing and related unions at his media companies in that nation.  Murdoch seemed to propagandistically promote Prime Minister Margaret Thatcher in multiple elections, which she won. 
And Thatcher seemed to return Murdoch's propagandistic media favors, by green lighting Murdoch's acquisition of the London Times. This enabled Murdoch to consolidate his grip on the media market in Britain, as he already controlled the News of the World, which was the nation's largest paper.
This appears to parallel what Murdoch has done here.  After providing seeminglly limitless infommercials and unrelenting propaganda support for the Trump presidency, the Donald's FCC and Department of Justice appeared to greenlight the Disney / ABC merger with Murdoch's Fox - which now puts Murdoch in a commanding position in the U.S. TV market as he now controls or is the largest shareholder in two of the nations four TV networks. This enables him near control of the news the majority of Americans see.
Murdoch Appears to use Government & Police Power to Crush Unions
UK Prime Minister Thatcher also gave Murdoch unwavering government / police support to bust the printing and related unions serving his company.  The strike and the beat down of its struggle lasted nearly a year at Wapping [outside of London], where numerous people were injured and far more arrested. In 1987, years after the strike, in an anniversary protest of the strike, 300 people were injured in what some believed was use of excessive force by the police.  During the strike 400 police were injured and 1262 people were arrested. The breaking of the unions greatly enriched Murdoch, yielding dividends for many years to come.  About 5,500 jobs were at risk and most were lost.
This one of many reasons I believe the man who controls more media in America than anyone else - by a terrible long shot – is a fascist.  Merriam Webster defines fascism as,
"... a form of far-right, authoritarian ultranationalism characterized by dictatorial power, forcible suppression of opposition, as well as strong regimentation of society and of the economy ..."
Murdoch Controls a Near Monopoly Share of U.S. TV Market
This is one of the main reasons why the current political and cultural situation in America, has become so dangerous to our nation's democracy.  Especially in light of the Donald's green lighting Murdoch's inverted takeover of Disney / ABC.  In that March 2019 merger, Murdoch sold some Fox assets to Disney / ABC for $71 billion, which enabled him to become that corporation's largest shareholder. 
Thus Murdoch is now the largest shareholder at Disney / ABC which is one of America's four TV networks.  Murdoch also controls Fox TV, giving him control and / or significant influence in half of the nation's four national networks.  He also controls the Wall Street Journal and the NY Post – two of this nation's largest newspapers.  Hulu streaming is also controlled by Disney / ABC.
Murdoch Appears to be Insidiously Gaining Control of Disney / ABC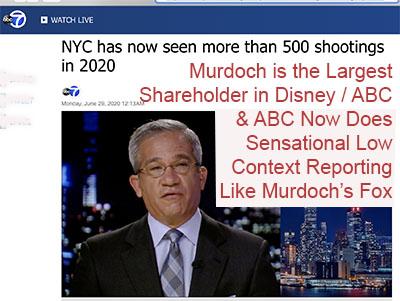 The February 25, 2020 appointment of former Disney Parks, Experiences and Products Executive Bob Chapek - to replace Bob Iger as the new Disney / ABC CEO - came as a surprise to most analysts. 
But I suspect it came as no surprise to Murdoch.  And it would come as no surprise to me if Murdoch pulled strings to obtain that appointment.  If Murdoch's past machinations are any guide, he's already well on his way to quietly and insidiously putting Murdoch people in key positions of that organization, as he works to transform a couple credible and venerable brands of that American corporation [Disney  & ABC] into outlets of his propaganda machine.
I tell you this so you're aware of the real threat to American democracy - the media Trojan Horse.  Russian 'President' Vladimir Putin could only dream of having the power and influence in American government that Murdoch has.  Murdoch's mendacious media seem to spin the news into what Murdoch appears to want the audience to believe.  And what he wants them to believe seems to have everything to do with who he wants elected.  And who he wants elected appears to be related to what he thinks whoever is elected can and must do to further enrich and empower Murdoch.  It's simple logic.
NYC is NOT on Fire: But Violent Crime is up & Other Crimes are Down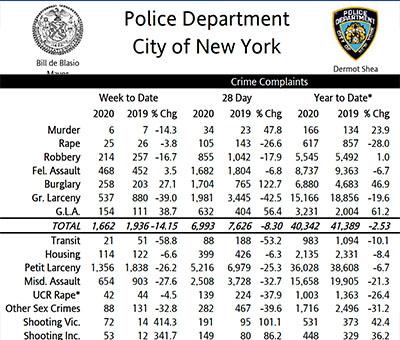 This is an unusual year in many respects.  Burglaries are up, but robberies are down.  Rapes are down and violent crime is up.  As mentioned previously, a good share of the killings and violence  seems related to gang related turf wars.
In thinking about police funding, consider listening to whatever side you're not on.  Not always, but generally, both sides have valid points and something to say.  We need law enforcement and law enforcement needs us. 
There's no good reason we can't work together – except that some people [like Murdoch perhaps?] will exploit the situation to eke out personal gains.  Pay attention to those who seek to do this, including the police union boss(es), who appear for too long to have protected a few 'bad apples' in the NYPD. These few 'bad apples' really make it hard for all of the other good policemen and women to do their jobs, and their retention on the NY Police force increases the risk for  all of the police officers  working at the NYPD .
Negotiation and compromise are good.  It's how this nation has been able to move forward. It's how the nation was founded. It's respectful and recognition that perhaps the other side has a point – no matter how wrong it may be.  Inevitably there's some measure of logic driving the position of each side. But sometimes you have to look hard, and then even when you find it, you may totally disagree with it. But at least then you are informed and on the road to a deeper understanding.
Major League Sports 2020 Seasons – To Be or Not To Be?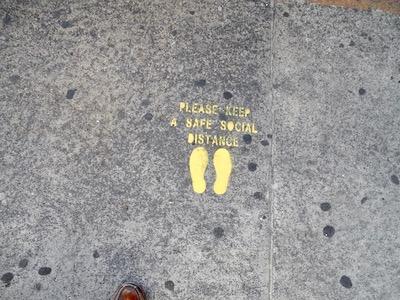 Major League Baseball teams are expected to begin practice on July 1st and the season begins on July 23rd or 24th for a 60 game season. One of the MLB players has already opted out.
The NBA is expected to have 22 teams begin practice on July 7th to play 22 games prior to the playoffs, which are currently expected to begin July 30th.  The 22 teams included in this round robin were those who had secured berths or were within six games of a berth.  NBA players are not required to play and one significant player from the Brooklyn Nets, Wilson Chandler, has already opted out.  All the games will be played at the Disney in Orlando.  Florida recently became the new epicenter of the Corona Virus. 
The National Hockey League announced plans to go straight to the Stanley Cup Playoffs.  As such NHL practice begins July 10th.  The playoffs are expected to begin two to three weeks later in late July or early August at locations in two separate to be chosen cities.  There's a wrinkle in that 26 players out of 250, tested positive for CoVid 19. Stay tuned.
And the NFL so far is continuing with its season opening / plans for September 7th.  All 32 teams are expected to begin practice in late July which is normal.  But the 32 teams are located in 23 states and what's going on in those states CoVid-wise, may impact the NFL plans, as it is both a contact sport [increases chances of CoVid infections] and an outdoor sport [reduces chances of CoVid infections].
NYS & NYC Election Results – Still Waiting for Mail In Votes
It's estimated that the mail in votes for the 2020 NYS primary represent about two thirds of the vote.  At an estimated 700,000 votes, that puts the turnout at lows equal to the 2014 interim election.  So CoVid isn't good for democracy.
The unfortunate thing is that I could find no data indicating to voters in which districts those mail votes were sent.  And many mail in votes get disqualified, making it a very imperfect process – see below.
Losing Electoral Strategy: Vote by Mail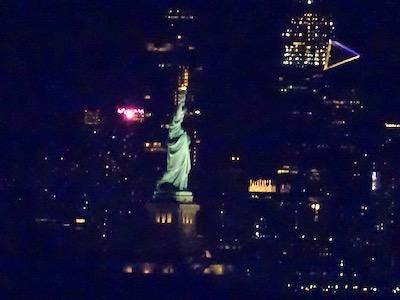 Democrats and Republicans need pay heed as voting by mail is no panacea.  In spite of Democrats and TV News pundits denials there is no voter fraud via mail.  There  appears there was some in Paterson, New Jersey.  
But that's really the least of it.  Way too many mailed votes are disqualified.  About 8% of the mail in votes were disqualified in the most recent national election [2018] according to an April 7, 2020 report in Politico.  And I know from personal experience that they disqualify ,mail-in votes on what seem stupid technicalities.    I forgot to sign the outside of the ballot envelope, and so my ballot was disqualified in one of the 2018 elections.
Hence I would not bet the farm in the upcoming election on the mail in vote, as it seems likely to provide enough chaos to provide the chaos makers and managers enough room to spin, distort and obtain whatever election result they want - like Murdoch's Fox News seemed to do late at night in the 2000 presidential election in Florida.
July 4th Fireworks NYC: Monday thru Friday & Saturday
The plan is to make the Macy's fireworks visible to all. Historically the fireworks go off around 9.20 or 9.30 pm [dusk / dark] and last 20 - 30 minutes emanating from one location. This year the fireworks will be launched from multiple locations on each week night so that collectively all New Yorkers will have an opportunity to see them.  And on July 4th there will be some sort of celebration which will include a video of the weekday nights plus something from the Empire State Building.
Enjoy. There's more coming later in the week.
---
---
Week & Weekend Update of Events in NYC
Planned Openings & Fireworks, Phase II & III Economic Reopening,  Life in the City & Primary Election Results Remain Open Due to Large Mail in Vote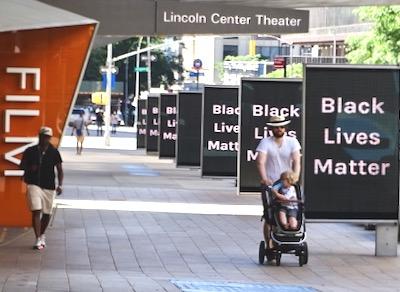 June 26, 2020 / NYC Neighborhoods / News Analysis & Opinion / Gotham Buzz NYC.
On Monday NYC entered Phase II of the economic reopening, which among other things included curbside restaurant service, limited office openings and limited capacity retail.  That put a lot of people back to work and seemed to give the city more of a normal feel.  The Mayor quipped that it was the first time in a while that he got caught in a traffic jam.
NYC Plans Move to Phase III on 7/6/20
Assuming New Yorkers maintain their CoVid protocol vigilance, we'll be moving to Phase III on Monday, July 6th.  This includes the reopening of Personal Care services such as nail salons, gyms, as well as limited capacity in restaurant dining.
A Word of Caution - CoVid Resurgences in Reopened States
But it's worth making a note of caution, as other states – such as Texas, Florida, California and Arizona which beat us to the punch in reopening their economies – have sparked a huge resurgence of new CoVid infections.  Texas, Florida and Arizona have put their economic re-openings on hold. Florida beat its previous high rate of CoVid infections on Thursday, nearly reaching 9,000 new infections in a single day. And an increasing share [about half] of these infections have been found in people between the ages of 25 – 45.
CoVid Deaths Affect All Age Groups – But Especially those with Underlying Health Conditions
People older than 65, males and African Americans are the demographics of the people most likely to be hospitalized according to a CDC report published today.  But people with underlying health conditions such as diabetes mellitus, hypertension, obesity, cardiovascular disease, chronic kidney disease, or chronic respiratory disease – are also at greater risk of being hospitalized.
While the CoVid related deaths in this country have levelled off, they have not stopped.  It's important to remember that CoVid related deaths are a lagging indicator of new CoVid infections - so as infections go up, the number of deaths is likely to follow.  It's also worth noting that the flu generally abates in the summer, while the spread of CoVid has continued, even as we have entered into the longest and hottest days of the year.
Wearing Masks – Try to be Patient with the Slow Learners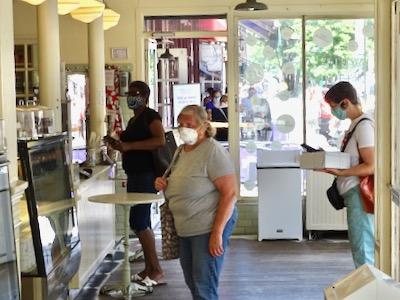 Unfortunately Desperate Donald, whose re-election prospects continue to dim as the CoVid pandemic rages on and the economic comeback falters, has set a bad example for the rest of the nation by not wearing a mask.  In one study, the wearing of masks reduced the spread of the virus by as much as 66% from carriers and by another 30% when worn by non-carriers [defensively].  The combination adds up to nearly 100%, which is how New York managed to crush the curve.
As of this post, only the Donald and Vladimir Putin of Russia – of all of the leaders of the world's largest nations – have resisted wearing a mask.  I begin to wonder how much more time it will take these two slow learners to understand that it's not only in their own best interest [health] to wear a mask, but also – as role models – it's also in the best health interest of the nation as well.  I think I now understand why the Donald has threatened to sue anyone who discloses his academic transcripts.
So to New Yorkers I say congratulations, please keep on doing what you've been doing, and perhaps we collectively can help fill in the leadership void at the national level by staying disciplined and avoiding a fall into the mask politicization trap and an accompanying CoVid resurgence.  That would truly be sad.
Phase III includes Park Recreational Space, Personal Care & Indoors at Bars & Restaurants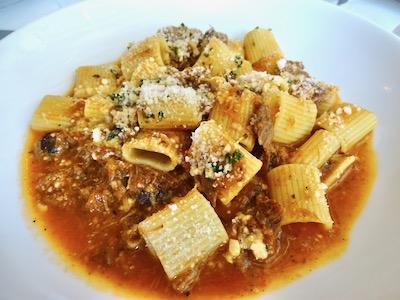 So Phase III is the reopening of park recreational space like basketball, tennis and other courts.  It also includes enabling restaurants to open to about 25% - 50% of capacity [I imagine depending on how the restaurant space was previously configured] indoors.  And it includes the reopening of personal care establishments like nail salons and gyms.  Hair salons were included in Phase II.
Planned Openings - Beaches, Libraries, Swimming Pools Update
NYC Parks beaches will open for swimming effective Wednesday, July 1st. Social distancing rules will remain in effect.  And there may be limits on capacity for the beaches – as is true for any given public access space these days.
Some 22 libraries in the city are planning to reopen effective Monday, July 13 for 'grab and go' book lending and returns. Libraries in each borough will be open, although days and times will vary from each other and from the old normal schedule.  Use the following links for the Brooklyn Library https://www.bklynlibrary.org/ the Queens Library https://www.queenslibrary.org/ and the New York Public Library which includes Staten Island and the Bronx https://www.nypl.org/ .
NYC July 4th Fireworks Early Next Week
Mayor de Blasio announced that there will be fireworks in NYC for July 4th – but it won't be the same as in prior years.  On Monday, Tuesday & Wednesday of next week [6/29 – 7/1] there will be five minute fireworks displays at - as of yet undisclosed locations [to avoid attracting crowds].  The locations are being selected based on a combination of fireworks safety and to make them as visible as possible within each of the five boroughs.  Then on July 4th there will be a display from the Empire State Building and an online video of the prior events. The use of illegal fireworks has been significantly up this year, and the Mayor and NYPD have initiated efforts to identify the suppliers and users and bring them in compliance with the law.
Metropolitan Museum of Art to Open, NYC Marathon & Lincoln Center Fall Season Cancelled, While Comic Con, Halloween & Thanksgiving Parades Holding on
The Metropolitan Museum of Art is planning to reopen on Saturday, August 29th.  That's the first good news we've heard on the cultural front.
The NYC Marathon has been cancelled for the 2020 year. And, as mentioned in a prior post, the fall season for Lincoln Center was also cancelled.
At present there aren't any plans to cancel Comic Con 2020 at the Javits Center from October 8 – 11.  Ditto for the NYC Halloween Parade in the Village on October 31st and for the Thanksgiving Day Parade in Midtown on November 26th .  But - as you know – things could change. The Marathon and Lincoln Center were the first to announce cancellations for the Fall, but more may follow.
The Economy – Transit Usage Up, Macys Layoffs, Amazon Buys NYC Commercial Real Estate & $1.3 Billion of Stimulus Payments go to Deceased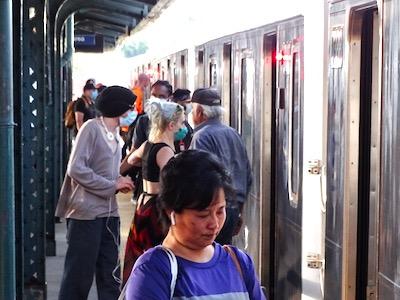 Transit usage was up again this week to about one million subway rides.  That's about 20% of normal – but bear in mind that the 60 plus million visitors to New York annually [five million per month] make up some of that and they're not likely to return for a while.  The MTA buses did better, rising to nearly 50% of pre-pandemic levels.
U.S. companies have taken on a fair amount of debt due to the low interest rates.  This could bode ill for them as interest rates rise.
Macy's announced staff reductions of 3,900 people to save an estimated $630 million. 
The General Accounting Office estimated that the Trump Administration sent about $1.4 billion to an estimated one million dead people.  Mnuchin's Treasury Department said they would try to recoup the funds.
Commercial real estate has slowed significantly and remains slow, as everyone awaits the dust settling on the pandemic impact on retail, restaurants, and telecommuting .  But that didn't stop Amazon from purchasing a one million square foot space it intends to use as a warehouse at 55-15 Grand Avenue in Maspeth, Queens.  Also, according to a June 23, 2020 Daily News report, Amazon is signing a lease for a combination 620,000 square foot office / warehouse space in the Red Hook neighborhood of Brooklyn as well as a 200,000 square foot facility in the South Bronx. Amazon already has a significant office / warehouse presence in Staten Island in two adjacent facilities of 450,000 and 855,000 square feet.
It's going to be warm this weekend, with highs in the high 80's and lows in the high 70's.  Scattered rain showers are  predicted on both Saturday and Sunday afternoon with 80% humidity on both days and a fair breeze [12 mph Saturday dropping to 5 mph Sunday].  Is it beach weather or  quarantine weather?  Enjoy : )
---
---
NYS Primary Elections Today
The Presidential  and Congressional Primaries are Today
June 23, 2020 / NYC Neighborhoods / News Analysis & Opinion / Gotham Buzz NYC. 
The long delayed NYS primary election is today.  On the ballot is the presidential primary featuring Joe Biden and I believe others - but the others have suspended their campaigns and Joe Biden has already won enough electoral votes to secure the nomination.  So in the presidential primary you can strengthen Biden's hand by casting your vote for him, or strenghten someone else's hand in influencing the Democratic platform that Joe will run on.
Political Calculus 11th District Congressional Race 
The 11th Congressional District in Staten Islandis comprised mostly of Staten Island and a sliver of southern Manhattan.   In the past this was the only congressional seat held by a Republican in the five boroughs of NYC, but that ended with the Trump led thrashing at the polls in November 2018, where Democrat Max Rose won. But it's a new year and this year Republican NYS Assemlywoman, Nicole Malliotakis, who lost to Mayor de Blasio in a landslide in 2017, has taken up the quest to challenge Rose.  She's challenged in the Republican primary by a few other candidates, but she's raised ten times as much in contributions, and has name recognition, so it's likely a foregone conclusion that she'll be carrying the red Trump flag into the contest against Rose in November.     
Click the link for the poll finder website, so you can easily find where to vote in your neighborhood.  Remember this is the land of the free and the home of the brave and many of our ancestors died for our right to vote.  So try to be brave, but also be careful.
The New York City election is Tuesday June 23rd and polls are open from 6 am - 9 pm.
---
---
NYC Life: Juneteenth, Summer Begins, Fathers Day, NYC Phase II, Atlanta Shooting & Election
The NYC Boroughs Showing Increasing Signs of Economic Life, but …
June 19, 2020 / NYC Neighborhoods / News Analysis & Opinion / Gotham Buzz NYC.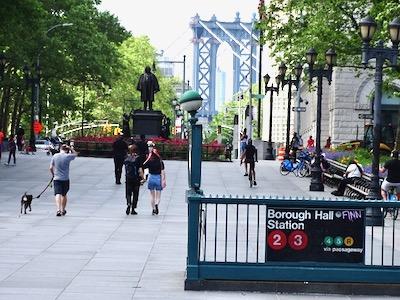 The Mayor announced we're moving to Phase II of the economic reopening beginning Monday. According to a missive by Councilmember Van Bramer, Phase II means that restaurants can resume serving people on sidewalks, at curbside, in opens streets and plazas and in backyard seating – but they need permits which may be obtained at nyc.gov and he notes that restaurateurs do not need to apply separately for the liquor permit.
Retailers can now serve people in their shops by limiting capacity, while following mask, [barrier?] and cleaning protocols.  The same is true for hair salons and barber shops. And realtors and auto dealers can resume working with clients, as can commercial building operations and offices on a case by case basis.
The photo at right was taken near Borough Hall in Brooklyn earlier this month.
On June 19, 1865 the Last Texas Slaves Were Freed
Juneteenth Celebrates the End of Slavery in the U.S.
Juneteenth is the date when the Union Army arrived in Galveston, Texas and informed all of the slaves there, that they were free.  Abraham Lincoln had issued the Emancipation Proclamation in January 1, 1863 – but rumor has it that word didn't reach Texas slaves until two and a half years later.
On Wednesday, June 17th, Governor Cuomo signed an Executive Order making today a holiday for NYS employees.  There are also a number of marches and rallies to celebrate Juneteenth in all five boroughs, most beginning between 12 noon and 4 pm, which you can find by doing a search for 'juneteenth nyc'.
First the CoVid Pandemic, then George Floyd Protests & Soon an Economic Housing Crisis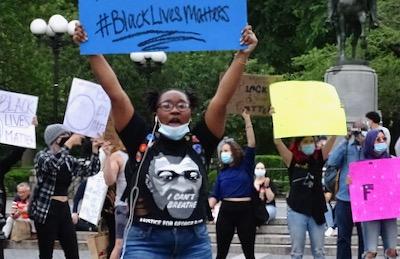 In May 2020 the Governor extended an eviction moratorium through August 20th, but from June  20 through August 20, the moratorium only applied to those who could prove they had been financially impacted by the CoVid pandemic or qualified for unemployment.   According to a June 15, 2020 report in the  Patch,
"… About 50,000 new eviction cases are predicted to be filed after the moratorium lifts on June 20 and, according to The Right to Counsel NYC Coalition's annual list of New York City's worst evictors, those evictions are most likely to occur in communities of color.
"I have not seen anyone else except Black and brown people being evicted," said Randy Dillard of CASA. "Most evictions happen in Black and brown neighborhoods. Half are in The Bronx…""
The photo at right shows a woman at a George Floyd protest in Union Square Park in Manhattan. 
First Day of Summer & Fathers Day NYC 2020
The first day of Summer is Saturday, June 20th, which is also the longest day of the year.  The day begins with sunrise at 5.24 am and ends at sunset at 8.30 pm.  The temperature highs are in the 80's and the lows in the 60's this weekend.  There's a small chance (24%) of a tiny amount of rain Saturday and the humidity will be between 80% - 90%, so warm.
And Fathers Day is Sunday, June 21st.  Thank the old man for all he's done for you in the best way you can.  Rearing children is a satisfying but challenging job, as any parent can tell you.  Good parents make all the difference in life and make the world better.
Neglectful parents, and those who are not so good at parenting, are likely in part responsible for what's wrong in the world. But part of what contributes to good and bad parenting - like everything - is circumstances.  Social status, economic and health conditions, education and community are all ingredients to a favorable or unfavorable outcome.  And what we reap is what we sow.
CoVid Casualties, Summer & Fall Season Cancellations
There were a couple of CoVid economic casualties that caught my attention recently – the Secret Theatre in LIC Queens is said to have closed its doors, as did Gotham Bar & Grill in Midtown Manhattan. 
Also Lincoln Center and Carnegie Hall announced there won't be a Fall season.  What got the most attention was that there wouldn't be a Nutcracker during the holidays. The NY Auto Show, which had originally rescheduled for August at the Javits Center but has since cancelled the NY Auto Show for this year and will return in April 2021.
Resumption of National Sports League Play Still Up in the Air
The professional sports world is still grappling with its near term future.  The National Basketball Association suspended play in March 2020, and is now hoping to finish the regular season beginning on July 31st.  But this arrangement must be approved by the players.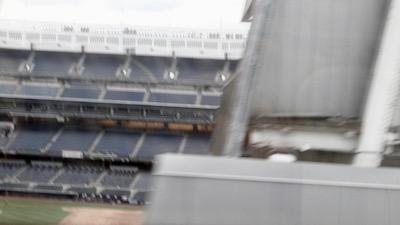 The National Hockey League agreed to go directly to the Stanley Cup Playoffs, ending regular season play.  Training sessions may begin as early as July 10th, and the competitions will be held in two hub cities [not yet selected] – one for the eastern conference and one for the western conference.  No date for the playoffs has been set.
The Major League Baseball season for 2020 was delayed, originally until July 4th, but that's not going to happen.  There's been a lot of wrangling between the Owners and Players union, and whether there's going to be a season at all, still remains open.
The photo at right shows Yankee Stadium in the Concourse section of the Bronx earlier this month.
The National Football League has been seen as the best shot for the resumption of a full schedule season by a major sports league – but as we near the beginning of the 2020 – 2021 season which begins September 10th – one has to wonder what to expect.
Unemployment Estimated to be About 13% with Net Job Add Backs Slowing
About 45 million people filed unemployment claims since the CoVid pandemic began.  As of the last unemployment report, about 20 million of the unemployed were still idle.  Given the American workforce is estimated to be about 155 – 160 million, this translates into about a 13% unemployment rate.
There were 1.5 million new unemployment claims, which was a reduction of 58,000 versus the prior week, which shows the economy isn't rehiring workers that quickly.  Based on what I see and hear – anecdotally – the forecasters who predict a gradual recovery likely have it right. California and Florida, both recently hit their highest daily totals for new CoVid infections, and CoVid has also been reportedly rising in Texas, and 18 other states.  This is 40% of the nation, and several of these states – like those mentioned above – are huge contributors to the overall U.S. economy.
Another African American Shooting by Police in Atlanta
On top of all the existing racial tension, there was yet another police shooting of an African American – this time in Atlanta on Saturday, June 13th.  The cop shot the man in the back twice, as he was running away. The police reportedly had the victim's identification and his car, as he allegedly was 'caught' sleeping off some booze in a Wendy's parking lot, before a scuffle ensued wherein the victim took off with the policeman's taser.
Murdoch's Fox: Is Carlson a Racist Tucker?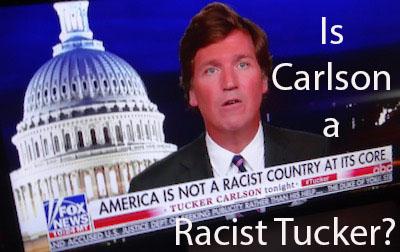 Tucker Carlson, on the Fascist leaning Fox Network, failed to report that the African American killed in Atlanta was shot twice in the back while running away. And Carlson conveniently didn't show the video documenting the victim being shot in the back by the Atlanta policeman, as the victim fled.
Fascism is defined as,
"... a form of far-right, authoritarian ultranationalism characterized by dictatorial power, forcible suppression of opposition, as well as strong regimentation of society and of the economy ..."
The Fox Network is controlled by the elite Australian born billionaire Rupert Murdoch, who also controls the Wall St Journal and the NY Post.  Murdoch's media seem to leave out important key points like this, and in doing so they leave their audience more disinformed than informed – with the bonus for Murdoch being that these people are convinced they know what's going on because they saw it on Fox News.
When I see things on Fox News that I've not seen reported elsewhere - I fact check them.  I oftentimes find that Fox seems to have distorted the news to serve its Master Murdoch's seemingly insatiable appetite for even more money and even more political power vis a vis his propaganda promoted puppet pols.         
The Chinese Curse – May You Live in Interesting Times
According to Quora this isn't really an ancient Chinese saying, but rather attributable to a British speaker in 1939.  Robert Kennedy popularized the phrase in a speech in Cape Town, South Africa in 1966 when he said,
" … There is a Chinese curse which says 'May he live in interesting times.' Like it or not we live in interesting times. They are times of danger and uncertainty; but they are also more open to the creative energy of men than any other time in history … "
I have long found silver linings in almost every 'misfortune' I have endured.  I hope you can do the same.  Have a nice weekend and Happy Fathers Day.
Some election info coming later this weekend for Queens and Monday for everyone else. 
---
---
Where We At?
These Certainly are Crazy Times & this is a Brief Update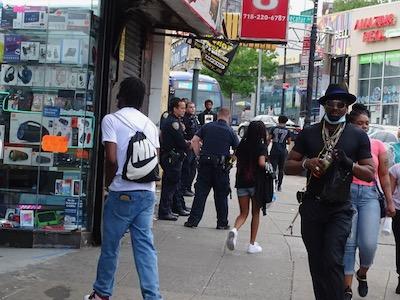 June 15, 2020 / NYC Neighborhoods / NYC CoVid 19 Special Section / Gotham Buzz NYC.
In mid March we slammed up against a CoVid pandemic and NYS Paused in order to thwart the rapid spread of the sometimes deadly disease.  Then, after we appeared to slow the virus spread, and we were slowly re-opening economic activity - a new crisis of conscience and societal awakening - was layered atop the pandemic. 
The social outrage, at what appears to be the murder of a man at the hands of a Minneapolis policeman, sparked protests across the nation and around New York City at what appears to be unnecessary municipal police violence and brutality targeting racial minorities, acted upon by a few members of the police forces around the nation.
We have covered both of these stories in prior reports and what follows is a bit of a catch up of the past couple of weeks and look forward into the next couple of weeks.
CoVid Science Update
A number of reports have provided updates into the nature of the Corona Virus.  These include what impact wearing the masks has, how the disease spreads via air and via surfaces, and the contagiousness of asymptomatic CoVid carriers on the general population.  I think it's important to remind folks that we're not even a year into the spread of the sometimes deadly disease, so look at all of what follows as still being somewhat preliminary.
CoVid Science Update – Wearing Masks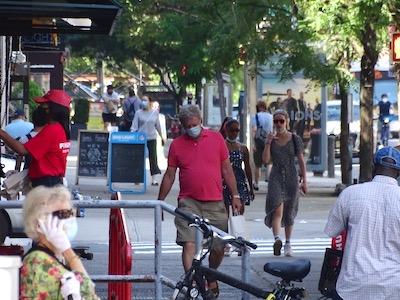 The wearing of the masks does appear to help, but it is most helpful in containing the spread by limiting the airborne virus by infected carriers.  Defensively it also appears to help, but substantially less so, if you're in close quarters with an infected person.  According to a May 17, 2020 report in the South China Morning Post a study using hampsters,
"… found the rate of non-contact transmission – in which the virus was transmitted via respiratory droplets or airborne particles – dropped by as much as 75 per cent when masks were present."
The study was done in a room, which is important to note because out of doors, this same study has not been replicated.  So wearing masks appears generally good.  But it's important to point out that the reason it's good goes back to the original WHO [World Health Organization] and CDC [Center for Disease Control] guidance, which is that it is most effective in containing the spread by an infected carrier.  Wearing masks has been found to be less effective in preventing the spread if the carrier is not wearing a mask even if the potentially infected is.
CoVid Science Update – Asymptomatic Carriers are Lower Risk than Previously Thought
Originally there was a lot of concern about the spread of the Corona Virus by asymptomatic carriers.  But a June 8, 2020 report by CNBC informs us,

"… From the data we have, it still seems to be rare that an asymptomatic person actually transmits onward to a secondary individual," Dr. Maria Van Kerkhove, head of WHO's emerging diseases and zoonosis unit, said at a news briefing from the United Nations agency's Geneva headquarters. "It's very rare."

"The virus is primarily spread via respiratory droplets when someone coughs or sneezes or if they touch a contaminated surface, scientists say."
This is helpful, as it points to the fact that the primary cause of contagion is sick people moving about in society.  And coupling that with the information above, specifically sick people moving about who are not wearing masks.
Dishonest Donald's CoVid Therapy Recommendations Removed from FDA Emergency Authorization Register
Hydroxychloroquine and chloroquine were not found to have a measurable impact in the treatment of CoVid 19.  Hence as of June 15, 2020, the FDA revoked what seemed its politically motivated Emergency Use Authorization for the two drugs in the treatment of CoVid 19.  The Donald, seeming to play a pretend doctor in his own reality TV show, had promoted the anti-malarial drugs as treatment for the virus.
Unemployment Falls – but not Really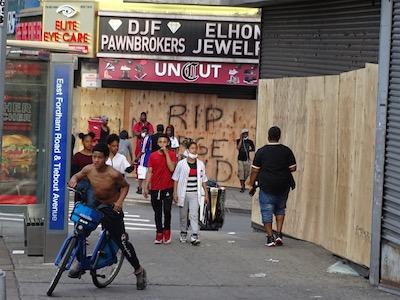 The official unemployment rate fell from 14.7% in April to 13.3%  in May according to the Trump Administration Bureau of Labor Statistics [BLS], BUT this single statistic seems to obfuscate the truth.
For example the labor force participation rate dropped 0.6% or by nearly a million people.
Then there was the two months running BLS 'error' where they counted millions of furloughed workers as employed.  According to aJune 8, 2020 report in Forbes,  
" … Unfortunately, after delving into the footnotes of the numbers, it now looks like the jobs report has been inaccurate for the last two months. BLS has admitted that government household survey takers mistakenly counted about 4.9 million people as employed, although they were unemployed.   Had the mistake been corrected, the unemployment rate would have risen to 16.1% in May. The corrected April figure would have been more than 19.5%—rather than 14.7%..."

" ... The official response was that the government doesn't correct its survey results for fear of the appearance of political manipulation.   The Labor Department acknowledged that for the last two months, it was aware of this issue, but didn't widely report it or make the necessary adjustments. The big question is whether or not this was purposely done … "
Dishonest Donald Promoting Fake News? 
Is the dishonest Donald selling erroneous U.S. government information like he used to hype the questionable valuations of his luxury condominiums, stock in his casinos, debt for his airline,  the value of attending  Trump University and doing work for the Trump Organization?  Not to mention hyping ineffective drugs, as noted above, for patients trying to recover from CoVid 19.
So we may have been close to 20% unemployment.  And the University of Chicago, one of the premier financial universities in the nation and world, estimates that about 40% of the furloughed jobs may not come back.
Catching Up: The Curfew on Monday – Saturday June 1 – 6, 2020
On June 1, 2020 Mayor de Blasio implemented a curfew running from 11 pm to 5 am.  On Tuesday, June 2nd the curfew was extended to begin at 8 pm except for essential workers.  The curfew remained in effect through Saturday, June 6th. 
The Mayor implemented the curfew to calm the NYC streets vis a vis the George Floyd protests, which looters appeared to use as 'cover' and a distraction, in order to commit crimes.  The curfew appears to have worked in calming things down.
On June 8th Mayor de Blasio & Governor Cuomo Reopen NYC
Phase I of NYC Economic Recovery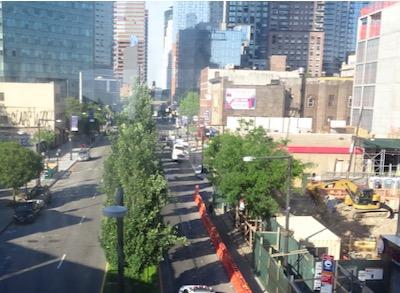 The good news, and it's honest, is that NYC entered phase I of its economic reopening.  Phase I allows construction, manufacturing, wholesale and agriculture to resume as well as curbside retail and restaurants.
To that end the traffic on the subways rose between 20% - 35% versus prior weeks.  The bad news is that the subway traffic is still down about 80% versus normal, but that's a helluva lot better than being down 90% - 95% like it was during the CoVid peak.
Fathers Day is Sunday.  It's an opportunity to help small businesses by shopping for your dad.
More coming later this week. 
---
---
George Floyd Protest Cinematography, Music & Narrative
June 12, 2020 / Gotham Buzz NYC.
The video below is an interpretive depiction of a protest event in McCarren Park early last week. The piece is meant to be savored - like food, music and cinematography.
Have a good weekend.
---
---
---
George Floyd Protests Continued
June 9, 2020 / Gotham Buzz NYC.
It's worth taking a little time today, the day of George Floyd's funeral, to talk about who George Floyd was.  According to Wikipedia, George Floyd was a 46 year old man and father of five.  While he was born in North Carolina, he grew up in Houston, Texas, where he was an accomplished high school basketball and football player.  He attended college for a couple of years, where he also played basketball, before dropping out.  In the mid 1990's he was also a rapper performing with a group on the Houston music scene.
His life took a turn for the worse as Wikipedia reports,
" … After several arrests for theft and drug possession, Floyd was charged in 2007 with armed robbery in a home invasion which he committed with five other men; he agreed to a plea deal in 2009 and was sentenced to five years in prison.  He was paroled in 2013 after spending four years at the Diboll Unit [a working unit]. After his release, he became involved with Resurrection Houston, a local ministry … "
Floyd moved to Minneapolis following serving his time and recently lost his job due to the CoVid pandemic.  He was caught trying to pass a counterfeit $20 bill while buying cigarettes in Minneapolis when he was arrested by police officer Derek Chauvin. 
Police Officer Chauvin was a 19 year veteran of the Minneapolis Police Department.  According to the Minneapolis Star Tribune,
" … [Chauvin] was involved with several police shootings, includes both commendations and more than 15 conduct complaints. Almost all the complaints were closed without discipline, records show, suggesting the allegations weren't sustained. The nature of the complaints wasn't made public … "
Since George Floyd's death, the influential role of police unions, on municipal police department operations, has entered into the discussion as a possible factor enabling police brutality and violence. We'll have more as the week progresses.
---
---
---
Untangling the Web: Floyd Protests, CoVid Pandemic, Unemployment & Crime
June 5, 2020 / NYC Neighborhoods / NYC CoVid 19 Special Section / Gotham Buzz NYC.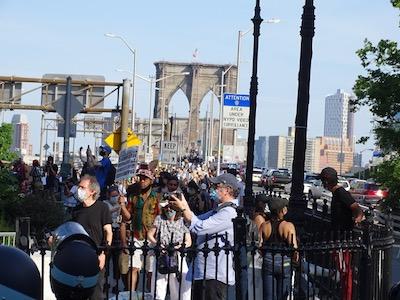 Thursday afternoon I ventured out again to cover the ongoing George Floyd protests.  This time I headed down to Cadman Plaza in Brooklyn first, where George Floyd's brother went to speak.  I missed the speech and the crowds too, as they had just departed across the Brooklyn Bridge, heading into Manhattan.
I took a subway into Manhattan and caught up with them as they came across the bridge, arriving just across the street from City Hall.  After spending some time there, shooting video and photographs, I took another subway up into the Bronx where the looting had taken place on Monday night - as I wanted to see things for myself - as I no longer trust billioniare and corporate owned Tabloid TV news to report things in context.
Around 7.30 pm I headed back home, hoping like Cinderella, to make it home before the curfew took effect, even though as a journalist, I'm allowed to be out as an essential worker.
I'll have more on all of this posting as the weekend progresses, including photos and video for this story and the one below.
In the meantime, best wishes for a pleasant weekend.   
---
---
George Floyd & Pink Floyd
Trying to Make Sense in a Senseless World
May 28, 2020 / NYC Neighborhoods / CoVid in NYC Special Section / News Analysis & Opinion / Gotham Buzz NYC.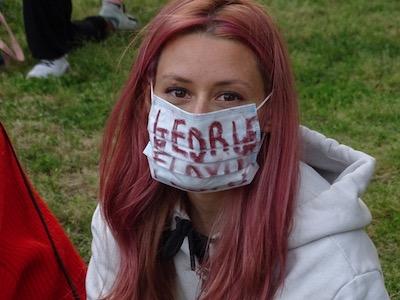 I watched the George Floyd protests unfold on the nightly TV newscasts for a couple of days before venturing out myself to see what I might learn. The protests began on Friday, May 29th in NYC, following the death of George Floyd, an African American who was asphyxiated, apparently due to a Minneapolis policeman holding a knee over George Floyd's neck for nearly nine minutes which was caught on video.
TV News Appears to Sensationalize More than Inform 
On Saturday night Fox News ran and reran the same footage multiple times of a car burning, seeming to hype and sensationalize the footage into a full blown 'riot'. The a lot of the Fox footage was taken from the air, in a helicopter which they lease (reportedly) for millions annually, which again repeatedly showed video of the crowd below, which appeared to be mostly our men in blue. So given little good video, they talked about groups dallying into the police and back again – but really didn't seem to have any video to support their claims. The next day Mayor de Blasio reported that there were no deaths and no serious injuries to members of the NYPD or the crowd. But there was some looting.
An NBC news account made the situation seem far more chaotic than it was by shaking the camera, providing the appearance of chaos. And so on.
More Photos & Video Coming Wednesday
Covering the George Floyd Protests in NYC from the Ground - Not from a Cushy Corporate Media Chopper   
The 'crisis' seemed to be more manufactured by the TV news, than by what was actually happening on the streets, which is why I decided I needed to cover this myself. Second hand TV news seems increasingly like garbage news, but before I could make such a claim, I had to see for myself.
Having grown up in a newspaper family, I've been watching the news and presentation of it all of my life, beginning with the Kennedy assassination, which my father made all of us watch as he said it was history in the making. Back then the news was owned by dozens, if not hundreds of independent newspapermen and broadcasters, so like social media, there was a variety of news presentations and you could pick from them.
Today large multi-billion dollar corporations control most of the news we see, and it seems their focus is largely centered around profit driven ratings instead of a fair and balanced presentation of the news. This is why they seem to hype, sensationalize and distort Americans' perceived reality in order to keep them glued to the tube. And the hyping and sensationalizing is not getting better – it's getting worse.
No longer can you turn on the TV to be informed, but rather to be scared, angered and far too often – to become disinformed.
View from the Ground in Search of the Truth in Manhattan NYC  
But thankfully, there is the internet, which is where you can find the truth – but you have to look for it.
So I ventured out Sunday night into Midtown Manhattan between the hours of 8 pm and 10 pm. I traveled to Times Square via subway. It was largely vacant and quiet, populated by groups of the NYPD, and isolated people walking to and fro.
So I then walked over to Bryant Park, which is where there was a scene the night before, and I had heard earlier in the day that there was to be some activity that night. Nothing. It was quiet and the park was closed.
So I ventured over to Grand Central Station, where I found the same. I asked one of the policemen there if anything was going on that night and he said yes, but in other parts of the city. I headed home to watch the nightly TV news presentation of what was going on.
So what did I see? I saw TV news at Times Square, from where I had just come. Again they had little footage, but said there were groups moving through the plaza. I began to wonder if these groups were doing it to get on the nightly TV news?
My Second Night Covering the George Floyd Protests  Manhattan
The next day I did a bit more homework and ventured out at 6 pm. I started my reconnaissance at Union Square Park where, again some of the looting the night before had taken place.
When I came up from the subway I noticed a group of nearly a dozen youths, dressed in hoods, with masks cloistered together. They warned me not to photograph them but I did anyhow. The photo will be shown after I rub out their faces, but they looked kind of tough, they carried no signs and if I were a policeman I would have shadowed them until they went home as I suspect they weren't there to demonstrate.
In the park there were a few protesters chanting Black Lives Matter. The scene had some of the usual theatrics of Bryant Park, but with an edge or a purpose. I continued down 14th Street, heading west, where I photographed a few borded up businesses which were likely vandalized the night before.
The NYPD had a large presence with groups of police keeping a watchful eye, but like the drug policing prior to the methodical scientific policing of the 1990's, it didn't seem focused on weeding out the bad apples, like those I suspected when I came above ground.
Something that occurred to me is that a few bad apples can ruin things for everyone. Not just for the peaceful protesters, but also for police forces around the nation. It seems the good apples need to do more to keep the bad apples in check. A 17th century Irish English political philosopher, Edmund Burke said that, "The only thing necessary for the triumph of evil is for [enough] good [wo]men to do nothing."
 My Second Night Covering the George Floyd Protests Brooklyn
I then headed back underground into the subway and headed to McCarren Park in Brooklyn. As I neared the park, there were literally hundreds of people coverging on the park, where a George Floyd event was to take place.
When I arrived at the park it was populated with literally thousands of people. I arrived right about 7.30 pm and as I walked through the crowd, there was a pleasant applause … and then quiet.
All of the people descended to their knees, in what I could only describe as a Colin Kaepernick moment. But it wasn't for a moment. The silence and the kneeling lasted a full half hour. I don't think I have ever, in my decades long lifetime, recall seeing such a large crowd, stay so silent for so long.
It felt like a religious ceremony, but without any organized religion. It was a spiritual event, of people coming together, to register their dismay and disappointment and perhaps silent outrage at the state of affairs we find ourselves in today.
I looked around for the cameras, as this was a huge event. But there were none except those held by individuals. I looked up in the sky to see the Fox Fake News helicopter zooming in on us. But they were nowhere to be seen. No fires, no looting, nothing here to sensationalize, to distort, to corrupt to feed their angry, fearful masses.
A long, disciplined, powerful half hour of silence, a powerful statement made by literally thousands of people, didn't make the fear-mongering nightly TV news that night.
If You Want Your Voice to be Heard it will Take More Than Showing up at a Protest     
We live in a democracy. We need to root out the bad apples from positions of power in government through voting, and halt the ratings at any cost reporting by the greedy corporate media by finding better - not bigger - news sources. And we, The People,   need to collectively weed out the bad apples abusing the police powers entrusted to them, while simultaneously holding those accountable who seek to exploit and desecrate the well-intentioned statements of millions, by breaking the law.
You and I both know that none of this will happen just by showing up at a protest. It can only happen if those outraged or dismayed, work with and through communal organizations, and by showing up at the ballot box fully informed – not disinformed. The good news is that the information is out there. The bad news is that much of it is not disseminated by those with the largest audiences.
I operate a small group of websites, so while this will be seen by many, but it will be seen by too few. To those who showed at McCarren Park last night, I want to thank you for your very powerful, Gandhi and Martin Luther King like statement.
They would be proud.
This report didn't end as I intended when I started it. Pink Floyd's Dark Side of the Moon is a 1973 album I still enjoy, that musically weaves themes of race, greed, life purpose and death into a poetically written and acoustically pleasurable experience.