$element(bwcore,insert_search,N)$
---
$element(bwcore,article_picker,1485,Y,N,page_title_home,N)$
$element(adman,groupad,Sectional Ad)$
$element(bwcore,article_picker,1484,Y,N,page_title_home,N)$
$element(adman,groupad,Sectional2 Ad)$
$element(bwcore,article_picker,1478-1471-1467-1451,Y,N,page_title_home,N)$
Upper East Side French Restaurants - Café D'Alsace
Casual Dining at French Restaurant on the Upper East Side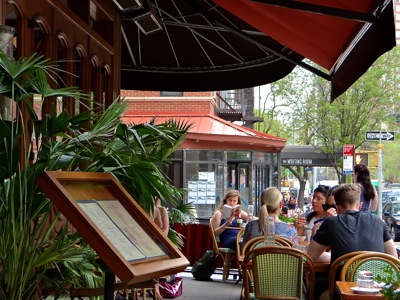 May 7, 2018 / Upper East Side Neighborhood / Upper East Side Restaurants / Manhattan Buzz NYC.
It was a warm pleasant May afternoon as I strolled into the Café D'Alsace on the Upper East Side. We'd planned to dine elsewhere, but the outdoor seating looked so inviting that we decided for a change of plans.
Formerly Elaine's Restaurant on the Upper East Side
The Café D'Alsace is located in what was once a kind of well known Upper East Side restaurant of the 1980's and 1990's - Elaines. Café D'Alsace is located at the corner of 88th and Second Avenue, just two blocks from the 86th Street stop off the Q line and the Second Avenue stop off the 86th Street crosstown bus - so it's a fairly convenient location to meet friends.
Today I was meeting a retired graphic artist, who spends his time managing some of his and his wife's business interests and their teenage kids' busy schedules. We took a spot outside to enjoy one of the first really nice days of 2018. The waiter appeared promptly and we began perusing the menu.
Cafe D'Alsace French Restaurant on the Upper East Side Manhattan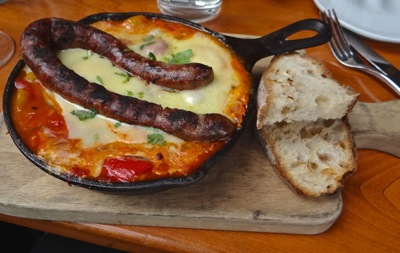 They included a prix fixe menu, offering three courses for $29. It included their Merguez Shakshuka, which I found to be of great interest. Nonetheless I began surveying the rest of the menu, adding up a combination or two of the other entrees, before I decided to give the Merguez Shakshuka a royal try. I also received the Soup of the Day, which was potato leek, and for dessert I went with the Molten Hazelnut Chocolate Gateaux. My dining companion wasn't in a very venturesome spirit today, and he settled on the Burger D'Alsace, preceded by the Winter Salad.
The conversation turned to some of the business ventures in which the artist and his wife are involved. It seems things are going reasonably well at the moment, and based on the conversation, it seemed they were expected to continue.
I have the rest of the story written, but I need to convert it to web format and add photos which I'll do Tuesday. Stay tuned.
---
Oktoberfest on the East River
Zum Schneider Oktoberfest is a Fun, Colorful, Character Celebration
October 4, 2016 / Gramercy Park Neighborhood / Manhattan Dining & Culture / Gotham Buzz NYC.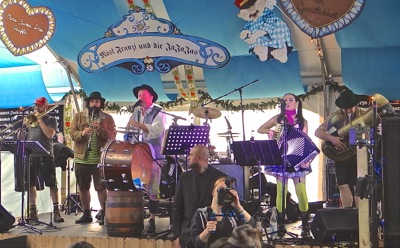 I attended the third annual Zum Schneider Oktoberfest on the East River on Sunday. The Oktoberfest celebration ended having been in operation beginning the prior weekend.
I met Sylvester, Founder of the event, who I found to be quite an interesting character. He's a musician, a restaurateur and one helluva showman based on what I saw on Sunday.
Oktoberfest began in the 19th century as a wedding celebration which was so successful, that the Bavarians made the celebration an annual event.
Between 7,000 and 8,000 people attend the event during it's ten day long stay. They are treated to a series of musical performances including some with Sylvester, sing-a-longs and dances. The food was a hearty but delicious assortment of bratwurst, chicken and pork - all of which I sampled and they were well chosen pieces of meat that had been cooked by someone who knew how to handle the meats as they were flavorful and moist.
I'll have more at a later date, including photos and maybe some video.
---
Flatiron District: Le Coq French Restaurant
Midtown French Restaurant has become a Crowd-pleaser
July 19, 2016 / Midtown Manhattan Neighborhood / NYC Restaurants / Gotham Buzz NYC.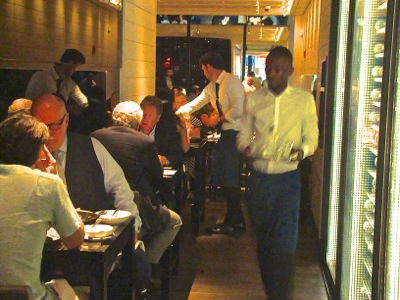 I took a trip into the Flatiron District just after the July 4th holiday to try out a new French restaurant that came recommended by friends. I arrived a bit late and my table had been seated in the main room in the back of the restaurant.
As I walked past the long modern bar to my left, I found myself tempted by its airy openness and ambiance as the front of the restaurant opens onto the street and the ceilings are in the neighborhood of 12 feet high. Just past the bar, along to my right there were bottles upon bottles of refrigerated champagnes. Hmm.
In the main room there were between a dozen or two tables. Some of the tables for couples were set in front of the walled booth-like benches, which were arranged next to one another. There were round tables for larger groups and families in the middle of the room, and an alcove containing a couple of tables set away from it all. The lighting was well done, with the inset lights on the ceiling radiating a quiet ambient light, supplemented by accent lighting on the ceiling that provided ample light on the table.
My party had already begun ordering, so in an attempt to be a good, but late guest, I went along, to get along.
More about Le Coq at a later date.
---
$element(adman,groupad,Sectional Ad)$
---
Staten Island Farmers Markets & Street Fairs
August 24, 2019 / Staten Island Farmers Markets / Staten Island St Fairs / Staten Buzz NYC.
A few Staten Island farmers markets might be open year round, but most of them are seasonal. Some of the seasonal Staten Island farmers markets will begin opening in the Spring of 2019, with the rest of them opening no later than the first couple of weeks in July of 2019. Click here to view the schedules of many of the farmers markets in Staten Island.
Staten Island & Brooklyn street fairs, on the other hand, are entirely seasonal. Some of them hit the streets as early as April 2018. The number of Staten Island & Brooklyn street fairs rises during the late spring and continues through the dog days of summer [July / August], including into the late part of the Fall. By the end of November the Staten Island & Brooklyn street fairs go on hiatus, with a few returning as early as April. Click here to view a full schedule of the Staten Island street fairs.
---
Bastille Day On The Upper East Side NYC
Alliance Francais Hosts Three Block Street Party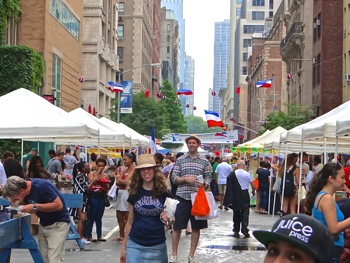 July 14, 2014 / East Side Neighborhood NYC / Staten Island Restaurants / Staten Buzz NYC.
I was feeling very revolutionary Sunday afternoon as I made my way to the Bastille Day Street Festival hosted by the Alliance Francais on 60th Street. They were hosting a [long] three block party that stretched from Central Park souteast at Fifth Avenue across Madison and Park to Lexington Avenue from 12 noon until 5 pm.
It had rained a bit that day which probably worked to the street farers' advantage as, while it was crowded, it was also very easy to move around and not so hot that one was 'glistening' throughout the afternoon.
The 60th Street blocks contain a number of fancy establishments, including the quiet, but well known, Metropolitan Club of which J. Pierrepont Morgan was once a member.
The vendors offered a variety of food, beverages, travel opportunities to places like Monaco and the French islands of Martinique, along with wine, cheeses, spices, some clothing, soaps, perfumes, jewelry and art. I think one of the things that separates this street fair from many others is that it generally stuck to the theme of all things French and hence had the effect of leaving me walk away with a little bit of feeling like I had taken a time-warp trip to Paris and back in the course of the afternoon.
Au revoir mon ami. Je voudrais voir vous bientot. A slide show with photos will follow later this summer.
---
Great Wine Stores in NYC - Morton Williams Wine & Spirits near Gramercy Park
For Food & Wine, Morton Williams Supermarkets and Morton Williams Wine & Spirits provide a modern organic, natural and standard food shopping experience and the wine store provides a nice selection of wines from around the world. They're located at 313 East 23rd Street.
---
$element(bwcore,article_picker,601-1082-304,Y,N,page_title_home,N)$
Staten Island Restaurants - Cafes, Diners & Restaurants NYC
Staten Island Restaurants - New York City Related Info
$element(adman,groupad,Catgry ManWmn)$
Click this link for promotions, discounts and coupons in Staten Island.
Click these links for promotions by advertisers in Staten Island.
Click this link to go to the Staten Island Neighborhoods section.
---
$element(adman,groupad,Catgry Rest)$
Site Search Tips. 1) For best results, when typing in more than one word, use quotation marks - eg "Midtown Neighborhood". 2) Also try either singular or plural words when searching for a specific item such as "gym" or "gyms".
$element(bwcore,insert_search,N)$
Click this link to the Staten Buzz front page.
---
$element(adman,groupads,Sectional2 Ad)$
---
Click the log in link below to create an ID and post an opinion.
Or send this story to a friend by filling in the appropriate box below.
---
Staten Island Related Links
Click for New Years Parties & Restaurants Staten Island NYC
Click for Farmers Markets Staten Island NYC
---