Labor Day Weekend NYC
Things To Do In NYC Over The Labor Day Weekend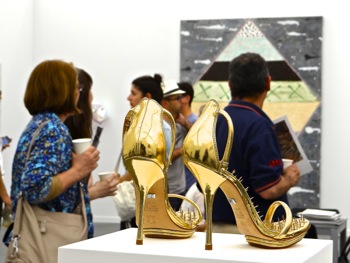 September 3, 2015 / Things To Do NYC / Gotham Buzz.
It's too early for a reliable weather forecast. Nonetheless you can still attend NYC street fairs in all five boroughs, go bicycling in NYC, play soccer & other games in Manhattan NYC parks, go shopping NYC, attend NYC parades, watch theater, visit the NYC art museums, and eat out at one of the NYC restaurants.
And it's all happening right here in our favorite borough - Manhattan. So take your time to sort through the days and locations and start planning your weekend.
Memorial Day Events In Manhattan
Click here to obtain information about things to do Memorial Day Weekend 2016 NYC. This events calendar is updated monthly with about 100 different Manhattan fun / cultural events.
Manhattan Public & Private Parks
Manhattan has one of number of public parks of which a few include swimming facilities. Click here for a listing of the NYC Parks including maps showing their locations along with a bit of park history.
NYC Golfing In Queens & The Bronx
Queens has four golf courses and all of them are open this weekend. Click here for details about Queens Golf Courses 2013 including maps and links to the operators' websites. The Bronx has several public golf courses: Mosholu and Van Cortlandt Park are accessible via the MTA / subway.
---
---
Memorial Day Weekend In Manhattan NYC
Things To Do In NYC & Manhattan Over The Memorial Day Weekend
September 3, 2015 / Things To Do NYC / Gotham Buzz.

Art Exhibits In Manhattan & NYC - Labor Day Weekend
Click here to view some of the in-progress art exhibits in NYC this Labor Day weekend. There are too many museums to showcase in this short space, but here are a few that are clustered along the Upper East and Upper West Sides.
Along the Upper East Side NYC, The Museum of New York, The Guggenheim Museum, The Metropolitan Museum of Art and The Frick Collection are all located along Fifth Avenue between 70th Street and 96th Street.
Along the Upper West Side there's the New York Historical Society, the American Museum of Natural History and the Planetarium - all of which are located along Central Park West between 75th and 85th Streets.
In Midtown there's the Museum of Modern Art.
In the photo to your right is one of the sculpture galleries in the Frick Museum at 70th Street and Fifth Avenue along Central Park East.
Dance, Theater & Music In Manhattan & NYC - Labor Day Weekend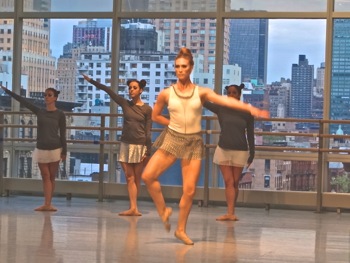 Click here to view the Theatre section of the Manhattan Events Calendar to see what's doing this Memorial Day weekend theater in NYC.
Just north of Columbus Circle, Lincoln Center is the home of many wonderful musical and dance performances. At the north end of the Upper West Side is Columbia University which largely operates in its own world, but has many cultural events going and frequently they're also available to the public.
Carnegie Hall is located on 57th Street and home to many classical musical performances. The Theatre District center is at 42nd Street and Broadway, where you can fan out in directions north and then east or west and find many theaters that almost always have a production going.
And further downtown in Midtown south, Chelsea and the Village there are many of the modern musical and theatrical venues. You need only browse along and off of the main streets to find something interesting.
An example of an interesting venue is shown in the photo to your right, where the Neville Dance Theatre Company is performing at the Alvin Ailey Dance Studios in west Midtown NYC.
Street Fairs Labor Day Weekend In Manhattan
On Labor Day Weekend in Manhattan there are a number of street fairs planned along the Upper East Side, Upper West Side, Midtown,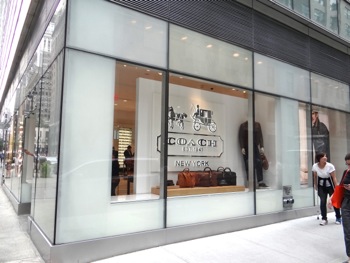 the West Village and East Village. Click here to view the Memorial Day Weekend Street Fairs in NYC, including dates, times and map links.
Shopping In Manhattan & NYC
This is a great weekend to do a bit of shopping during the pleasant weekend weather. Click here to view our shopping sections of the following neighborhoods: Queens & Manhattan.
Each of these shopping sections includes, or will include, links to home pages, which have slide shows of merchandise as well as maps, store hours, phone numbers and telephone numbers.
In the photo at right is one of the brand name stores located in the heart of Midtown.
Bicycling In Manhattan & NYC
Manhattan has a long and growing list of bike paths. Click here to view a report about bike laws in NYC so you can ride safely. There's a program called Citi Bikes, which allows you to rent a bike using your credit card. Whereever you find bike racks filled with blue bicycles - take a closer look and it's probably a Citi Bike rack and you can rent a bike from there and return it to any of their racks around NYC.
We're working on a useable map of bike trails in Manhattan, since we couldn't find one we liked. In the photo to your right are the 5 Boro Bike Riders cruising through the Upper East Side NYC on their way to the Queensboro Bridge.
Kyaking Along The East River In Manhattan & NYC
There are a couple of kyaking clubs that operate in the NYC Metro area. Generally they will provide free use of kyaks or charge only a nominal fee. Do a search for kyaking in Manhattan, Queens, Brooklyn, the Bronx and you'll find more detailed info. At a later date we'll return here to update this with our own findings.

Dining In Manhattan & NYC
Food in Manhattan has always been good. The variety of restaurant choices is difficult to match anywhere, and if you look carefully, you can find good food at reasonable prices too. Click here to view the NYC Restaurants NYC section of the site, which includes reviews of the restaurants we've selected to review. As of this writing, we've identified some of our old favorites, but haven't done the deep dive yet.
Things To Do Manhattan / Queens Things To Do
---
Site Search Tips. 1) For best results, when typing in more than one word, use quotation marks - eg "Midtown Neighborhood". 2) Also try either singular or plural words when searching for a specific item such as "gym" or "gyms".
Click this link to the Gotham Buzz front page.
---
NYC Related Links
Click for NYC Restaurants NYC.
Click for NYC Shopping NYC.
Click for Things To Do NYC - Holidays in NYC.
Click for NYC Neighborhoods NYC.
---
---
NYC Holidays & Hotels in NYC
NYC Holidays & Hotels Related Info
Click this link for promotions, discounts and coupons in New York City.
Click here to go to the NYC Arts & Culture section of this site.
Click these links for promotions by advertisers in Manhattan.
Click this link to go to the NYC Neighborhoods section.
---
Click the log in link below to create an ID and post an opinion.
Or send this story to a friend by filling in the appropriate box below.
---