Is Nixon the One for NYS?
Cynthia Nixon & Jumaane Williams Support Real Rent Reform
June 14, 2018 / NYC Neighborhoods / NYC & NYS Politics / Gotham Buzz NYC.
On Thursday afternoon I headed to the NY Public Library at Bryant Park to attend a Rent Reform Rally organized by RealRentReform.org. I had heard that Cynthia Nixon and Jumaane Williams, candidates for NYS Governor and NYS Lieutenant Governor, respectively, were to speak at the event - so given the relevance of rent reform and the growing interest in the challengers to the status quo ... I decided to go.
As I emerged from the subway, I wasn't disappointed. There were a thousand plus protesters gathered on the steps of the central library along Fifth Avenue, just south of 42nd Street, gathered to make their voices heard. What struck me as I surveyed the crowd was the cross sectional nature of the people who had gathered. From the young student activists, to the elderly handing out pamphlets, to people of all colors ranging from black to white.
I shot some photos and talked to some of the organizers and attendees to find out what they had come to say. Essentially they were disappointed with Governor Andrew Cuomo's inaction on strengthening rent regulations - which struck me as comparable to the inaction on housing and the rapid rise in homelessness in NYC as happened under former Mayor Michael Bloomberg.
CLICK here for Cynthia Nixon running for Governor & Jumaane Williams running for Lieutenant Governor at Real Rent Reform Rally at the NY Public Library.
---
Is Nixon the One for NYS?
Cynthia Nixon & Jumaane Williams Support Real Rent Reform
June 14, 2018 / NYC Neighborhoods / NYC & NYS Politics / Gotham Buzz NYC. Continued.
NYS Department of Housing & Community Renewal
NYC Mayor de Blasio helped arrest the rising tide of homelessness in NYC by his actions since taking office in 2014, but there was plenty more to be done, and the Governor and the State of New York hold many of the cards. One of the complaints I heard was that the NYS Department of Housing & Community Renewal [DHCR] budget had been cut since Cuomo took office, and that there were only eleven lawyers to help tenants avoid evictions and unfair landlord and developer actions statewide.
Cuomo Decreases DHCR Staff While 'Appearing' to Increase Real Estate Development Incentives
I went online and looked up the budget for the NYS Department of Housing & Community Renewal budget where the agency staff portion of the budget between 2011 and 2017 had been cut from $745 million to $682 million, which is a net reduction of 8.5%. The funds being allocated to the development of housing looked like it had increased substantially [+715%] from $314 million in 2011 & 2012, to $2,245 billion in 2018. But - as I found out - this multi-billion dollar increase is misleading ... so please spend a bit more time and keep on reading.
The 'added billions' goes toward categories entitled State Operations, Aid to Localities and Capital Projects. All of the increase went into a category entitled Capital Projects, which was comprised of two subcategories - Infrastructure Investments and a Housing Program Fund. But the budget increase was saddled with an MOU. The funds were allocated to incent and aid real estate developers to build affordable housing. The net result is that it looks like Governor Andrew Cuomo has cut DHCR agency staff who help residents stay in their homes, while 'appearing' to increase the state money to aid real estate developers to build affordable housing.
Governor Cuomo added $2 billion to the DHCR budget in 2016 referencing a Memo of Understanding [MOU]. While Cuomo claimed to commit $2 billion to building 20,000 new affordable housing units, he saddled the budget increase with a legislative tactic - the MOU. I was told - and the DHCR budget appears to confirm - that most of this money remains unspent and appears to be a revolving budget item that allows Cuomo to claim he's making the investment in affordable housing while not actually going through with it. Real Rent Reformers at the Rally last Thursday alleged that this is a part of a revolving budget game by Governor Cuomo, while the NYS affordable housing shortage continues.
This reminds me of another game allegedly played by Governor Cuomo, which was the use of the now disbanded 'Independent Democratic Caucus' [IDC], which Governor Cuomo is reported to have supported. The IDC was comprised of NYS Senate Democrats who caucused with the Republicans - thus essentially making them Republicans running as Democrats. I did a story earlier outlining this subterfuge which you can view by clicking the link.
NYS Losing Affordable Housing Stock?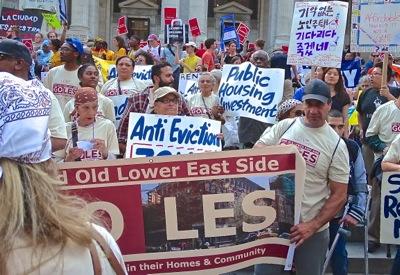 Another protester complaint was that somewhere between 75,000 and 100,000 affordable homes have been lost during Andrew Cuomo's two terms as Governor and that he has turned a blind eye to landlords and developers cashing in on his inaction. Cuomo's DHCR staff budget cuts would seem to support this allegation, as does Cuomo's inaction on closing loopholes used by developers and landlords to convert rent stabilized apartments to market rate housing stock.
One protester told me that homelessness has risen 36% since Cuomo took office. As of this writing I haven't had time to totally verify this claim - which I hope to do between now and when the primary season ends on election day Thursday, September 13th, 2018 [the election date was moved because Tuesday is 9/11]. But I did find that, at least directionally, these claims are correct.
An example of the growing statewide housing crisis is that in the school year 2012 - 2013, a bit less than halfway through the eight years Andrew Cuomo has been governor, New York had the third highest percentage of homeless students in the U.S. [source: Institute for Children Poverty & Homelessness - aka ICP]. I had thought that homelessness was largely a New York City problem, but as you can see by the map / chart the ICPH published - the problem is statewide.
Jumaane Williams & Cynthia Nixon Running for NYS
After speaking to the protesters a number of people rose to speak. Among them was Jumaane Williams, the NYC Councilmember of the 45th district in Brooklyn. He's challenging NYS Lieutenant Governor Kathy Hochul who he said was party to NYS Governor Cuomo's inaction.
The following is a video primarily of NYS Gubernatorial candidate Cynthia Nixon speaking at the rally. It was the first time I had seen her look like a real contender for the governorship since she announced her intention to run on March 19, 2018. Nixon talked first about rent regulations and one of her own personal experiences, and then she went on to mention other issues that separate her and Jumaane from Cuomo and Hochul.
This is just the beginning of our NYS state elections coverage 2018. I still have a fair amount of research to do to become more familiar with the state's role in so much of what affects us in NYC including affordable housing, the MTA, NYC public education and possibly corruption.
Petitions to Help Challengers get on the NYS Ballot
Nixon and Jumaane have about three weeks left to obtain the required signatures to get on the ballot. If you want to help them you can by copying & pasting this link into your browser for Cynthia Nixon for Governor and for Jumaane Williams for Lieutenant Governor
https://cynthiafornewyork.com/wp-content/uploads/2018/06/Cynthia-Jumaane-Petition.pdf
---
---
NYC Boroughs - New York City
NYC Neighborhoods - New York City Related Info
Click this link for promotions, discounts and coupons in New York City.
Click here to go to the NYC Arts & Culture section of this site.
Click these links for promotions by advertisers in Manhattan.
Click this link to go to the NYC Neighborhoods section.
---
Site Search Tips. 1) For best results, when typing in more than one word, use quotation marks - eg "Midtown Neighborhood". 2) Also try either singular or plural words when searching for a specific item such as "gym" or "gyms".
Click this link to the Gotham Buzz front page.
---
---
Click the log in link below to create an ID and post an opinion.
Or send this story to a friend by filling in the appropriate box below.
---
NYC Related Links
Click for NYC Restaurants NYC.
Click for NYC Shopping NYC.
Click for Things To Do NYC - Holidays in NYC.
Click for NYC Neighborhoods NYC.
---